HYDERABAD, India, (Reuters) – India's spinners wreaked havoc, after captain Mahendra Singh Dhoni and Suresh Raina starred with the bat, to clinch a 126-run victory over England yesterday in the first of five one-day internationals.
Ravindra Jadeja picked up three wickets with his part-time left-arm spin and off-break bowler Ravichandran Ashwin took three more as England, chasing a target of 301, were bundled out for 174 in 36.1 overs at the Rajiv Gandhi International Stadium.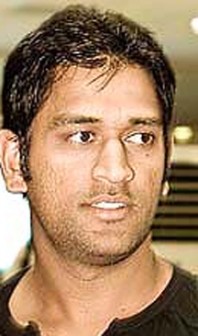 After electing to bat first India were reduced to 123 for four but Dhoni (87 not out) and Raina (61) helped them rally to finish on 300 for seven.
The home team smashed 150 runs in the last 15 overs as Dhoni and Raina, who survived a close run-out decision on 16, flayed the England attack.
Jadeja also contributed with the bat with a 22-ball 27 on a slow wicket.
India, playing at home for the first time since winning the 50-over World Cup in April, failed to win a single international match on their tour of England earlier this year.
The visitors, who left out Ian Bell and selected young Jonny Bairstow instead, suffered a middle order collapse after captain Alastair Cook (60) fell to Jadeja.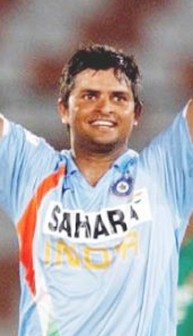 Opener Cook hit seven boundaries and put on 71 for the third wicket with Jonathan Trott (26) before he holed out in the deep while trying to up the scoring rate.
The second match will be in Delhi on Monday.
Soreboard
India innings
P. Patel run out                                                      9
A. Rahane st Kieswetter b Swann                 15
G. Gambhir lbw b Dernbach                            32
V. Kohli c Pietersen b Patel                            37
S. Raina c Bairstow b Finn                               61
MS Dhoni not out                                               87
R. Jadeja run out                                               27
R. Ashwin run out                                               8
P. Kumar not out                                                 1
Extras (lb-4, w-18, nb-1)                               23
Total (for seven wickets; 50 overs)        300
Did not bat: R. Vinay Kumar, U. Yadav
Fall of wickets: 1-17 2-52 3-79 4-123 5-195 6-260 7-282
Bowling: Bresnan 10-0-66-0 (4w), Finn 9-0-67-1 (1nb, 2w), Dernbach 10-0-58-1 (6w), Swann 10-1-35-1, Patel 8-0-49-1, Bopara 3-0-21-0
England innings
A. Cook c Vinay Kumar b Jadeja                             60
C. Kieswetter c Dhoni b Kumar                                   7
K. Pietersen run out                                                      19
J. Trott b Jadeja                                                              26
R. Bopara c & b Ashwin                                                  8
J. Bairstow c & b Jadeja                                                 3
S. Patel b Yadav                                                              16
T. Bresnan st Dhoni b Ashwin                                      4
G. Swann b Yadav                                                             8
S. Finn not out                                                                 18
J. Dernbach b Ashwin                                                    2
Extras (w-3) 3 Total (all out; 36.1 overs)         174
Fall of wickets: 1-7 2-40 3-111 4-120 5-124 6-126 7-134 8-148 9-163
Bowling: P. Kumar 8-1-38-1 (1w), Vinay Kumar 5-0-24-0, Kohli 3-0-11-0, Yadav 5-0-32-2 (1w), Ashwin 8.1-0-35-3 (1w), Jadeja 7-0-34-3
Around the Web