Mercy Wing's Shiekelle Scott was this year's standout thrower while Tutorial High School's (THS) Maurice Gibson maintained his dominance in the high and long jump events when East Georgetown schools clashed yesterday at the Guyana Teachers' Union (GTU) ground.
Scott's only blemish yesterday was his loss to Errol Welcome, New Campbellville Secondary School's (NCSS) sprint triple winner on Thursday, in the Boys under-18 shot put. Welcome threw 9.14m for the win to better Scott's 8.57m. Subsequent to this loss, Scott had captured the discus under-18 event with a throw of 26.60m, the under-20 event with a 25.85m throw and the shot put under-20 event with a distance of 8.10m.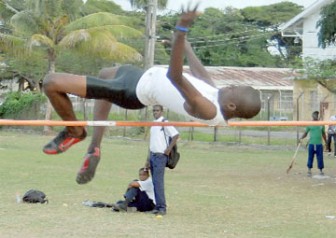 Laured Stuart of Queenstown Community High (QCH) was second in the discus under-18 with a throw of 23.18m, Grantley Williams of THS was second in the under-18 discuss with a throw of 21.83m and settled for second again in the boys under-18 shot put, throwing 7.96m.
In other throwing events Youlanda Carroll of St. Joseph High School (SJHS) won the girls under-16 shot put with a distance of 6.50m; Delroy Austin won the under-16 boys by throwing 9.31m; Tiffany Pilgrim (QCH) beat the field in the under-18 discuss with 7.43m while Raunasha Garnette threw 6.07m in the under-20 age group. On the other hand, Gibson bounded his way to a long jump victory with a leap of 6.35m and flopped his way over 6ft. Clarence Green, competing in the under-18 high jump used the event to push himself to new heights against Gibson.
Ansa France of THS won the under-18 discuss (22.57m) and javelin (21.45m). Ayesha Bovell returned yesterday after her exploits on the track on Thursday to win the under-16 discus while THS's Whitney Stuart took the under-20 discus, recording a distance of 15.78m.
Nimnod John won the javelin with a throw of 32.44m while Julia Hazelwood and (17.15m) Randall Duguid (30.19m) were the under-16 female and male winners in the javelin.
Around the Web