Zone Two came from behind to win the track segment of the 2011 North Zone  Championships that concluded yesterday at the Police Sports Club ground, Eve Leary.
Zone Two scored 589 points to narrowly defeat Zone One and Zone Three which recorded 583 and 558 points respectively.
The primary school division saw Zone Four coming out on top in the track events with 114 points while Zone Two, One and Three trailed with 74, 68 and 59 points respectively.
National youth athlete and Inter-Guiana Games 400 metres selectee, Jevina Sampson proved why she is the under-14 female to beat going into the  Schools Nationals which is scheduled to begin on November 14.
Sampson dominated the sprints by claiming a sprint triple, winning the 100, 200 and 400 metres with times of 12.6s, 26.5s and 1:01.6s respectively.
Devon Abrams tried to mirror his performance on Thursday at the Inter-Schools Championship when he won a sprint triple. However, he was only able to pull off a sprint double yesterday when he won the boys under-18 200 and 400 metres running times of 22.9s and 52.9s respectively. Abrams was upstaged in the boys under-18 100 metres by former national youth sprinter and under-15 cricketing all-rounder Kareem Naughton.
Naughton clocked 11.20s for the first position while Abrams ran 11.3s for third.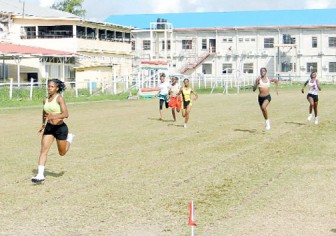 Shoquan Daniels and Shomaine Daniels (the Daniels sisters) ruled the under-16 and 18 females categories as they both recorded sprint doubles.
Shoquan Daniels who ran the under-16 category won the 100, 200 and 400 metres with times of 12.7s, 27.0s and 1:05.5s respectively while her sister Shomaine mirrored her sister's performances clocking 12.9s, 27.1s and 1:04.5s in the 100, 200 and 400 metres respectively.
Emerging junior sprinter, Jamal Marks had somewhat of a rough day when he claimed the 100 metres boys under-20 in fine style clocking 11.2s but was marginally defeated in the 200 metres by Lawrence Phillips who clocked 23.4s for the victory.
Marks clocked 23.5s for the second position while national table tennis player Nigel Bryan finished third with a time of 23.8s.
IGG selectee Trevon George dominated the under-20 category by claiming a triple. George who competes in the 800 and 1500 metres regularly won those events easily by recording a time of 4:34.06s ahead of Devon Barrington who clocked 4:42.7s. He also won the 800 metres by forfeit.
However, earlier in the day George stepped out of his comfort zone to win the boys under-20 400 metres in 52.4s, defeating Bryan who did 53.2s and Marks 53.3s.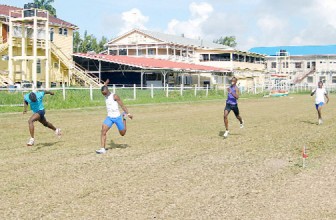 Arinze Chance mirrored his Inter-Schools performances by winning a sprint triple in the under-16 category yesterday.
The 15-year-old from Bishops' High School made sprinting look like an easy task as he dominated his opponents in the boys 100, 200 and 400 metres with times of 11.3s, 23.6s and 55.1s respectively.
In the male teachers 100 metres Joshua Griffith clocked 11.3s to win the under-21 event while 2008 IGG 100 metres silver medalist Timothy Doris clocked 11.2s to win the males 21-30 race. Commonwealth Youth Games representative Malcolm Walcott easily won the under-18 800 and 1500 metres while police athlete Tisha Grimes captured the females under-20 400, 800 and 1500 metres races.
Relay action saw Zone One easily winning the men's 4×100 metres relay while Zone Two won the female version.
The men's 4×400 metres was won by Zone Three while Zone Two dominated the female aspect of the event.
Around the Web