By Iva Wharton
A three-day exhibition of basketball paraphernalia was held recently at the National Library and organiser of the event, Julian Haynes, said its purpose was to preserve the history of the sport in Guyana.
Haynes, a former basketball player and national coach, said too often young people are unaware of when the sport started in Guyana; who were the first set of players or what their accomplishments were during that era.
This, he said, was the first such exhibition of its kind on the sport in Guyana adding that it will become an annual feature.
Next year, the exhibition will be in April and not October.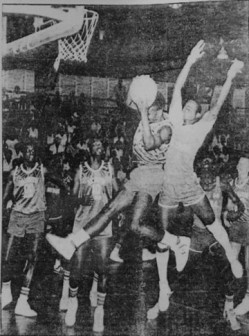 The sport, Haynes said, was started in April of 1953 by a group of friends among them Clairmonte Taitt, Ken Corsbie, Wilbert Holder and Stanley Greaves.
Haynes admitted that organising the exhibition was not an easy task because, he said, a lot of time was spent searching newspapers archives for clippings from the 1950s to early 1990s.
He also had to make contact with former players some of whom were instrumental in providing photographs and other pieces of information either on themselves or other players to put together biographies.
On display were biographies of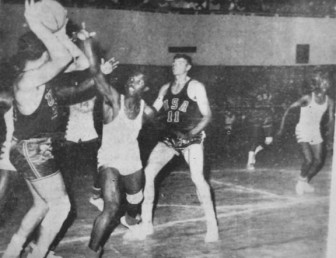 former national captain Mike Brusche, Merton Fitzalbert, the late Colonel Godwin McPherson, who was president of the Guyana Amateur Basketball Federation and  Charwayne Walker.
According to Haynes, more information would be on display next year as they were still in the process of sorting through all the pictures and information they have gathered.
He said because of the absence of such exhibitions, today's generation was mostly aware of American basketball players and not the locals.
"They are learning the sport from the Americans, but they lack the necessary guidance. They also need to know what has happened in Guyana and what is happening," he said.
Asked to compare to sport during his period as a player to present day, Haynes said without a doubt it was better in his period.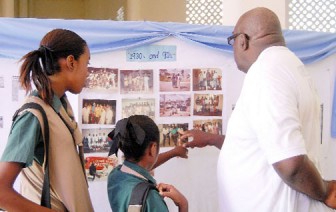 The sport from its inception to the early 1990s seemed to be to heading in the right direction, but took a turn for the worse from which it never recovered.
The players in those days, he said, were very talented, probably more than some of the players now.
Those days he said can return, but assistance is needed and some of older players can help in bringing about that change.
Some of the older players are doing some work, but more is needed, Haynes opined.  They can contribute in building infrastructure to aid in the development of the younger players.  Children, he said, are playing and there are enthusiastic persons around to guide them but the concept of fully developing the sport has not been bought by the relevant authorities, said Haynes.
Around the Web