By Emmerson Campbell
Godfrey Pollydore sped  off with the feature 35-lap Schoolboys and Novices race in record time yesterday when national cycling coach Hassan Mohammed and the Hand in Hand Fire & Life Insurance Company staged a  11-race cycling meet at the National Park circuit, Thomas Lands.
This year marked the eighth year that Hand in Hand company has teamed up with Mohamed to sponsor the 'Teach Them Young' programme.
As customary three cycles were presented to three disciplined young riders who were in need of bicycles. The three recipients were Justin DeNobrega, Philbert Walters and Tharron Garbaran.
Pollydore won the event in one hour and 15 minutes and 25 seconds breaking the record of one hour and 16 minutes that was set by national captain Robin Persaud at the last 'Teach Them Young' programme on September 24.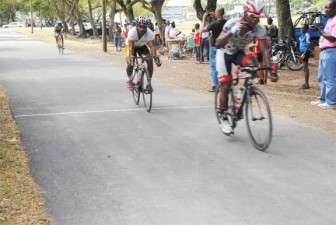 Pollydore, along with Eric Sankar and Paul DeNobrega, broke away from the rest of the field with five laps to go in the 35-lap event. The trio rode together until about 200 metres from the finish line when  Pollydore rose from his saddle and sprinted to victory.
Pollydore led Sankar, junior DeNobrega, Marlon 'Fishy' Williams, another junior Raynauth Jeffrey and Albert Philander respectively in the top six finishers.
Pollydore, 34, also earned four prime prizes  while two went to Williams and one to DeNobrega.
In other races, Adrian Sharma won the BMX boys 12 to 14 three-lap race ahead of Jhonnick LaRose and Christopher Griffith respectively.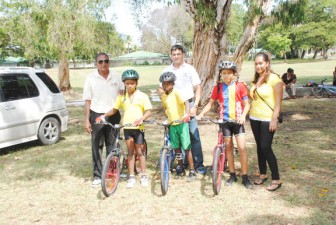 Julio Melville took top honours in the three-lap BMX boys open race ahead of Samuel Dick and Ricardo Sharma. Jhonnick LaRose won the boys nine-to-12 years, three- lap race ahead of Jubharu Ming and Yousuf Latiff respectively.
In the 12-to-14 year, boys and girls three-lap race, Raul Leal, Alfie Sonaram and Marica Dick were the top three finishers respectively.
The prime prize went to Alfie Sonaram.
The five-lap, veterans under-50 years race was won by Phillip Piggott in a time of 12 minutes and 15 seconds. Piggott also took the prime prize. Syborne Fernandes was second and Esau Oselmo third.
In the five-lap veterans over-50 race, Wilfred Thom was first and Krishandat Singh pedaled in second. Thom and Singh were the only two riders for that category.
Maurice Fagundes'  dominance  in the over-60 category  came to an end as he was upstaged by Anthony Farriah while Harry Lall was third.
Neil Reece won the juveniles 10-lap race in a time of 23 minutes and 41 seconds ahead of DeNobrega and Raul Leal. DeNobrega, however, copped the two prime prizes that were up for grabs.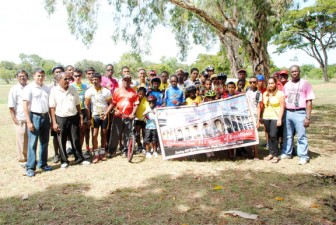 The upright cyclists race was won by Mario King with Richard Charles placing second and Keon Thomas crossing the finish line in third. Charles was the recipient of the lone prime prize that was awarded.
The two-lap BMX boys six-to-nine years race was won by Tharron Garbarran  with Nicholas D'Andrade and Christopher Goring, second and third respectively.
At the prize giving ceremony, Mohammed thanked the cyclists for participating in the meet and making the programme a successful one.
Presentations of prime prizes and trophies were made by Hand in Hand Business Development Manager Vivek Joshi and Marketing Coordinator Andrea Jodhan.
In brief remarks Joshi stated that it is his company's pleasure to support cycling and sport in general. Joshi noted that the development of sport in Guyana is very important for the youth and as a country as a whole. The manager encouraged the cyclists to stay in the sport and promised that Hand in Hand will sponsor the cycling programme for at least another eight years.
Around the Web