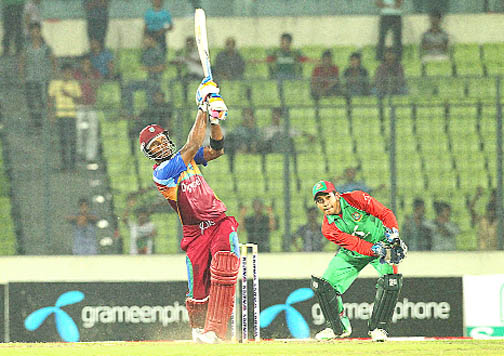 DHAKA, Bangladesh,  CMC – Attractive half-centuries from Marlon Samuels and Lendl Simmons inspired West Indies to a crushing eight-wicket defeat of Bangladesh in the second One-Day International here yesterday, earning the Caribbean side only their second one-day series win in three years.
Chasing Bangladesh's moderate 220 all out off 48.5 overs, West Indies were propelled to their target by Samuels's unbeaten 88 and Simmons's 80, at the Shere Bangla National Stadium.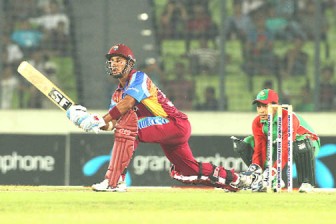 The pair posted 111 for the second wicket, after Danza Hyatt (39) and Simmons had laid the platform for the run chase with a measured 71-run opening stand.
Earlier, captain Mushfiqur Rahim hit 69 and Nasir Hossain, 50, to engineer a Bangladesh fightback after they tottered at 18 for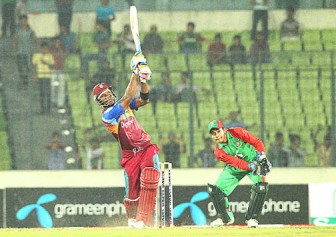 four in the fifth over.
Mushfiqur combined with Naeem Islam (30) to add 57 for the sixrth wicket and stabilise the innings, while Nasir posted a further 41 from 37 balls for the eighth wicket with Abdur Razzak (25), to provide late impetus.
Speedster Kemar Roach grabbed three for 49 while pacer Ravi Rampaul (2-27) and captain and medium pacer Darren Sammy (2-42), finished with two wickets apiece.
The win gave West Indies and unassailable lead in the three-match series. Their only other ODI series win in recent years came against Zimbabwe last March in the Caribbean.
They had previously beaten Sri Lanka 2-0 in a three-match series in the Caribbean back in 2008.
Opting to bat first, Bangladesh had a nightmare start when left-hander Imrul Kayes swished at the fourth ball of the day from Rampaul and edged a catch to wicketkeeper Denesh Ramdin, to depart without scoring at one for one.
Three balls later in the next over, Tamim Iqbal (1) squirted an innocuous delivery from Roach down the throat of Andre Russell at third man and two balls later, Mohammad Ashraful (0) flirted with another harmless delivery and succeeded in finding second slip, where Sammy juggled before securing the catch.
As if things could get no worse, Shakib al Hasan, who looked ominous with three fours in 12 from nine balls, essayed a loose, flat-footed drive at Rampaul and was gobbled up behind.
Mushfiqur, who hit two fours and a six off 109 balls, then played responsibly to haul his side back into the game.
He carefully put together a stand of 40 for the fifth wicket with Alok Kapali (20) before anchoring another solid partner ship with Naeem who faced 42 balls and hit three fours.
Mushfiqur added a further 35 for the seventh wicket with Nasir before finally departing, caught at deep square pulling at Russell at 150 in the 40th over.
It was left to Nasir, who hit three fours and a six off 54 balls, to provide the late flourish in tandem with Razzak, who stroked a cameo 19-ball 25.
Simmons and Hyatt then played contrasting knocks to put the Windies on course for victory. While Simmons was more sedate in early on, Hyatt looked to attack and he cleared long on with left-arm spinner Razzak for his first major scoring shot in the fourth over.
Not to be left out, Simmons took a four and a six off pacer Shafiul Islam in the seventh over.  Hyatt faced 46 balls and struck two fours and four sixes, before he was brilliantly caught by Rubel Hossain at long off – running in and diving – off Shakib's left-arm spin which yielded two for 30 from 10 overs.
Simmons and Samuels then dominated as West Indies moved in cruise mode. The right-handed Simmons faced 125 balls overall and counted three fours and three sixes while Samuels hammered 12 fours and a six off just 74 balls.
Simmons appeared headed for yet another hundred when he swept at Shakib and was adjudged lbw at 182 for two in the 38th over.
Samuels, who emerged from a quiet start to shine, then reduced Darren Bravo (1 not out) to a mere spectator in dominating a 39-run, third wicket stand. He took three successive boundaries from fast bowler Rubel Hossain's final over before smashing three fours and a six off Shafiul's seventh that cost 21 runs, as West Indies easily reached their target.
Scoreboard
BANGLADESH
Tamim Iqbal c Russell b Roach                               1
Imrul Kayes c wkp Ramdin b Rampaul                0
Mohammad Ashraful c Sammy b Roach             0
*+Mushfiqur Rahim c Samuels b Russell           69
Shakib Al Hasan c wkp Ramdin b Rampaul       12
Alok Kapali c Simmons b Roach                            20
Naeem Islam c and b Samuels                                30
Nasir Hossain b Sammy                                            50
Abdur Razzak run out                                                25
Shafiul Islam c Bishoo b Sammy                             4
Rubel Hossain not out                                                0
Extras (lb3, w6)                                                             9
TOTAL (all out; 48.5 overs)                              220
Fall of wickets: 1-1 (Imrul Kayes, 0.4 overs), 2-1 (Tamim Iqbal, 1.1), 3-1 (Mohammad Ashraful, 1.4), 4-18 (Shakib Al Hasan, 4.2), 5-58 (Alok Kapali, 18.5), 6-115 (Naeem Islam, 31.3), 7-150 (Mushfiqur Rahim, 39.2), 8-191 (Abdur Razzak, 45.3), 9-220 (Shafiul Islam, 48.4), 10-220 (Nasir Hossain, 48.5)
Bowling: Rampaul 10-0-27-2, Roach 10-1-49-3, Russell 9-1-50-1, Sammy 8.5-0-42-2, Bishoo 5-0-21-0, Samuels 5-0-24-1, Pollard 1-0-4-0.

WEST INDIES
L Simmons lbw b Shakib Al Hasan                                80
D Hyatt c Rubel Hossain b Shakib Al Hasan             39
M Samuels not out                                                              88
D Bravo not out                                                                      1
Extras (lb2, w10, nb1)                                                    13
TOTAL (2 wkts; 42.4 overs)                                      221
Did not bat: +D Ramdin, K Pollard, A Russell, *D Sammy, D Bishoo, R Rampaul, K Roach.
Fall of wickets: 1-71 (Hyatt, 16.1 overs), 2-182 (Simmons, 37.5)
Bowling: Shafiul Islam 7-2-53-0, Abdur Razzak 6-1-32-0, Shakib Al Hasan 10-1-30-2, Rubel Hossain 10-0-54-0, Alok Kapali 2-0-12-0, Nasir Hossain 2.4-0-14-0,  Mohammad Ashraful 2-0-17-0, Naeem Islam 3-1-7-0.
Result: West Indies won by eight wickets.
Series: West Indies lead three-match series 2-0.
Player-of-the-Match: Marlon Samuels.
Toss: Bangladesh.
Umpires: Nadir Shah, Paul Reiffel; TV – Sharfuddoula.
Around the Web