The All Blacks threatened to engulf the Tri-Nations champions after Quade Cooper, the man New Zealanders love to hate, had lobbed the kickoff into touch on the full.
Expatriate New Zealander Cooper made a series of unforced errors early in the match after a relentless wave of attacks on both flanks.
However, the All Blacks' only reward, and the sole try of match, came when Ma'a Nonu drove over the line after the outstanding Israel Dagg had sliced through the defence and flung the ball infield before sliding into touch.
Despite the All Blacks' dominance, based on a rock-solid scrum which frequently forced the Wallabies backwards, Australia were still in contention when the teams turned around with New Zealand leading 14-6.
But, although Piri Weepu failed to replicate the place-kicking accuracy with the boot he had showed against Argentina in the quarter-finals, it became clear that the longer the match went on, the less likely the Wallabies were to snap a losing sequence at Eden Park stretching back to 1986.
The outcome was the worst defeat Australia have endured at a tournament which they have won twice and also twice disposed of New Zealand in the semi-finals.
It also ensured a repeat of the inaugural 1987 final at Eden Park, the only other time New Zealand have hosted the tournament, and the one time they lifted the Webb Ellis trophy.
Bogey team
France were comfortably beaten in 1987 but they have subsequently become New Zealand's bogey team in the World Cup with their upset semi-final win in 1999 and their quarter-final victory in Cardiff four years ago.
"The job hasn't been done yet. I think it's really important that we understand that and that we get our feet back on the ground over the next two days and build again for this test," said New Zealand coach Graham Henry.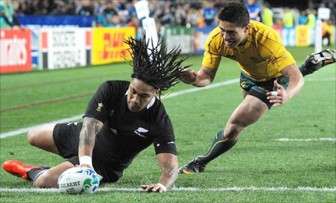 "It's a huge game of rugby. We've got a lot of history with France in the rugby World Cup and we respect them."
France advanced to their third final after defeating Wales 9-8 on Saturday. Wales were forced to play for 60 minutes after their captain Sam Warburton was shown a red card for a dangerous tackle.
Warburton was suspended for three weeks on Sunday and will miss Friday's third place playoff against Australia.
France, the only team to reach a World Cup final after losing two pool matches, will start their preparations for Sunday's final with a verbal onslaught from their coach ringing in their ears.
Marc Lievremont called his team "spoiled brats" on Sunday after they had disobeyed his instructions and went out to celebrate a distinctly poor display on the previous evening.
"I told them they are a bunch of spoiled brats," he said. "Undisciplined, disobedient, sometimes selfish, always complaining, always whingeing."
Around the Web