By Emmerson Campbell
Suhai Feng became the 2011 Sasha Cells national junior chess champion after he defeated Cecil Cox yesterday in a best of three games playoff Series at the Guyana Olympic Association building on High Street following the completion of the seven round Swiss system tournament.
The two players ended the National Closed junior Chess championships with identical scores of five and one half points following yesterday's final round.
Feng had gone into yesterday's final round game against Anthony Drayton knowing that he needed a win in order to become sole champion as a draw against Drayton and a win for Cox against Sham Khan would see the two players in a tie.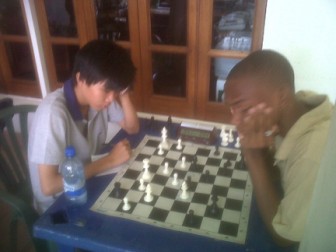 However, Drayton in one of the tournament's biggest surprise stunned Feng with a victory while Cox squandered a won position against Khan and settled for a draw which resulted in the Guyana Chess Federation deciding on the three-game play-offs.
Feng defeated Cox, the 2009 champion in the first game (15 minutes for each player) but Cox, coached by former Blitz champion Roy Sharma, rebounded to win the second game played over 10 minutes.
However, the 17-year-old Feng, who had led for the duration of the tournament before faltering at the last hurdle, was not to be denied and rebounded to win the third and final five minute game.
"I'm so happy because I was training for many weeks for this tournament and after I defeated Cecil I felt a real relief.
"I'm so happy because it's the first time I'm winning the junior tournament because last year I got third," a relieved Feng told Stabroek Sport afterwards.
Feng had beaten all the other competitors except last year's winner Ron Motilall with whom he drew.
Feng also commented on his training and preparation leading up to the tournament.
"I practiced for weeks before the tournament; I also played chess on the internet learnt stuff from Grandmaster games to analyze chess moves and new techniques," he revealed.
Feng said that he will be aiming to improve and play stronger in order to successfully defend his title next year.
Cox said the tournament was very interesting adding…"Suhai deserved to win he played extremely well."
Cox, who had only played one tournament prior to the Nationals in January this year, said his preparation revolved around opening theory and training against specific players.
He admitted that he lost concentration a few times "especially in the tie-breakers."
Cox was also last year's runner up losing to Motilall in another play-off series.
The final positions were Feng and Cox five and one half points, Motilall, five points, Drayton, four points, Sham Khan, Meikel Mahabir and Rashad Hussain two and one half points each and Kana Khan one point.
In other results yesterday Mahabir and Hussain drew their encounter while Motilall beat Kana Khan.
Around the Web