Playing off a handicap 12, Rajkumar took the lion's share of the prizes at the presentation ceremony after he won the overall lowest net of 126. He also shot the lowest gross over the two days.
Speaking after the presentation, Rajkumar told Stabroek Sport that he was on a mission in Guyana as he prepares for this weekend's R1 sponsored Guyana Open championships.
"My swing has improved and my putting has improved, I am on a mission this year," he said.
He shot an impressive net 61 on the first day and returned to shoot 65 on the final day, while his gross scores were 73 and 75 for a total of 148.
Second place went to Sukhram who also won the women's competition edging out last year's winner Rita Heikens.
Suhkram recorded a net 137 to win on a countback from Heikens who placed third, Vijay Deo and Dr. John Ramsingh were fourth and fifth respectively also ended  with a net 137.
Lowest gross on day two was recorded by Mohanlall "Santo" Dinnanauth who shot 76 while Munaff Arjune was Nearest to the Pin (NTP).
Dinnanauth was also NTP on day one. Both Rajkumar and Sukhram were presented with the tournament's famous Red Jacket.
Digicel's Chief Executive Officer Gregory Dean said that his company was extremely pleased to sponsor the tournament for a third successive year.
He said that Digicel was prepared to work closely with the Lusignan Golf Club to develop the sport locally.
Lusignan Golf Club President Brian Hackett lauded the management of Digicel for their significant contribution toward this year's tournament.
"Digicel and the Lusignan Golf Club recently signed a memorandum of understanding and we are quite pleased with the agreement since it entails branding of the club, sponsoring of the tournament and bar promotion, said Hackett.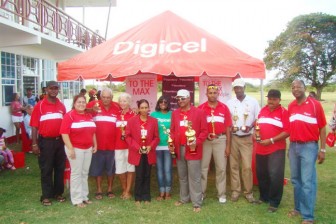 He said the members look forward to Digicel's tournament annually.
Meanwhile, preparations are going apace for this weekend's Guyana Open championships.
Already several overseas players are in the country for the Club's premier event.
Players are expected from Canada, United States and Suriname for the annual event.
The defending champions are Avinash Persaud in the men's category and Christine Sukhram in the female division.
Around the Web