Mbalula told a news conference he would not be deterred by the threats and was appointing a retired judge to investigate the matter.
"I got calls last night telling me to get out of this cricket thing, to leave it alone because it would be very dangerous for me," Mbalula said.
"But I will not be threatened because we must be decisive in acting against corruption, otherwise what will we say to the next federation that gobbles money? If I'm going to turn a blind eye then we will become a banana republic."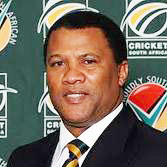 Auditors KPMG were appointed to look at bonuses paid to Majola and other CSA staff in connection with the staging of the Indian Premier League and ICC Champions Trophy tournaments in 2009.
The sports minister said he would name the retired judge and his terms of reference before the end of next week in a bid to bring conclusion to a matter that has plagued CSA since August 2010.
"We have a responsibility to protect the taxpayers' and sponsors' money that is pumped into cricket and also to ensure that the Proteas badge and South African flag the national team wear is respected," said Mbalula.
"It is important to adhere to good corporate governance and all the judge's recommendations will be followed through. I want this to be finished before Christmas…We cannot allow this thing to stay on us like an albatross," Mbalula said.
AK Khan, the CSA's acting president, said in a statement: "I can promise the minister our full co-operation. We will be studying his full statement once we have received it and I look forward to discussing the matter further with the minister when we meet this afternoon."
Around the Web