Guyana's World ranked squash player Nicolette Fernandes has reached the semi-finals of the women's individual singles competition at the XVI Pan Am Games currently underway in Guadalajara, Mexico.
According to Guyana's Chef-de Mission, Noel Adonis, Fernandes, the lone Guyanese representative in Squash defeated Argentina's Antonella Falcione and Thaisa Serafini of Brazil when play began on Saturday and Sunday.
"Guyana could not have asked for a better start to the performances at the Games as Nicolette endeared herself to the small but knowledgeable and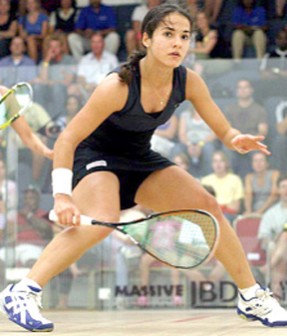 appreciative gathering of spectators with a brilliant display of strokes, coupled with her cool composure and control to win her first two matches against competitors Antonella Falcione, of Argentina, and Thaisa Serafini, of Brazil," Adonis wrote.
Fernandes defeated Falcione 11 – 6, 11-6, 11 – 7 and Serafini 11 – 9, 11 – 9, 11 – 9 and will now play
top seed and World number 14 Samantha Teran of Mexico, in an eagerly anticipated semi-final match tomorrow.
Swimmers, Brittany van Lange and Niall Roberts, also commenced competition in the pool earlier yesterday  but neither was able to improve their times in the 200m and 100m freestyle events in which they respectively participated. 
Van Lange is scheduled to compete in the 400m freestyle tomorrow while Roberts will be back in the pool when the competition continues later in the week. 
 
In taekwondo, David Rajjab will take to the mats in a match-up against Jamaican, Kenneth Edwards today in a  heavyweight clash.
Meanwhile, the advance party of the Guyana delegation to the games arrived in Guadalajara on Wednesday.
According to Adonis, the initial group comprising athletes and officials from swimming, squash and taekwondo, participated in the Welcome and Flag Raising ceremony the following day.
They also participated in what was a spectacular Opening Ceremony staged by the Games Organising Committee on Friday evening.
In attendance for the Flag Raising and Opening Ceremonies were GOA President, K. Juman Yassin, Secretary General, Ivor O'Brien and Assistant Secretary Treasurer, Hector Edwards, who were in Mexico to represent the GOA at the PASO Congress, held on Wednesday.
Some 15 rugby players and officials and four track and field athletes and officials are expected to join the Guyana delegation for the remainder of the games, Adonis reported.
        
 
  
Around the Web