CHITTAGONG, Bangladesh, CMC – Darren Sammy said the West Indies dressing room has been a happier place to be following their two victories over Bangladesh in their One-day International series.
The West Indies captain said on the eve of the final ODI between the two sides today at the Chowdhury Stadium.
"There is a good atmosphere in the dressing room," he said. "Our batsmen are scoring runs and looking confident. Our bowlers have done well for us all year and continue to do well.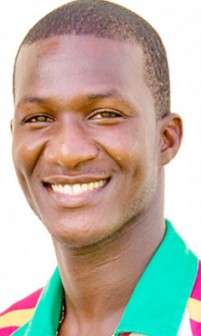 "In all departments, there is always room for improvement and players have been talking about how they can get better and improve their skills, so it is clear everyone is focussed on moving forward."
He added: "So far, we've been batting well and we lost only six wickets in two ODIs. It hasn't happened in a long time.
"Credit to the guys for all the hard work they have put in. The coach has incorporated a professional culture in the team and everyone is buying into it."
West Indies won the first ODI by 40 runs at the Sher-e-Bangla Stadium before taking the second match by eight wickets at the same venue to an unbeatable 2-0 lead in the three-match series.
Sammy said West Indies would not be satisfied with just taking the series. They are eyeing a clean sweep because it will be crucial to their elevation in the ODI Rankings.
"We still have a job to do," he said. "This is a crucial match in the overall long-term plan of the team as we look at what we want to achieve.
"We win the series 3-0 and we get four ranking points so this is a very important match. It's not about revenge from the 0-3 result when they beat us two years ago [in the Caribbean]. We are going out there to put up a professional display. We win the series 2-1, we get no points."
He added: "We have completed the series win, but we want to continue doing the good things we have been doing and look for another victory.
"As a team, we have overall goals and we always aim to play total team cricket. We put in a very professional display in the ODI series and we want to continue this."
Sammy hailed the work of opener Lendl Simmons and all-rounder Marlon Samuels in the series so far.
Simmons made 122 in the opening match – his maiden international century – and followed up with 81 in the second match. Samuels has made scores of 71 and 88 not out and has also been effective with his off-spin bowling.
"Before [Marlon] had a two-year break from international cricket, he was playing very well for us and now he's back he has is showing his class and desire for success," said Sammy.
"He's a natural stroke-maker. It took a few games for him to get back into his own, but we can see the kind of player he is. The work he has put in for somebody who has been out from cricket for two years is tremendous."
Sammy said: "Simmons has matured and is playing really well for us. He has the ability to get us off to a flying start and he's the kind of player who backs himself and that confidence rubs off on others.  "Playing first-class cricket and Champions League has given him exposure and he is showing what he can do."
Around the Web