By Emmerson Campbell
"Cycling comes first in our lives" –  more or less that sums up the focus of the hugely successful California-based five-man team that competed here for the first time in the recent five-stage 266-mile Ride for Life cycle road race in Guyana.
Stabroek Sport  caught up with the team that included the five-stage overall winner Michael Larsen, second place finisher Jonathan Teeter, Adam Carr, Nicholas Sorrensen and Henner Rodel along with their coaches Roger Farrell and Peter Sue  during a celebratory  post-race meal at New Thriving restaurant on Main Street.
Their arduous training includes long hours in the saddle as well as weight training, and this is bolstered by knowledgeable trainers, an adequate diet, supportive sponsors, and team spirit.
According to Adam Carr: "My advice at the end of the day is devoting time on their bikes – the guys that did well here they busted their humps riding their bikes."
We don't drink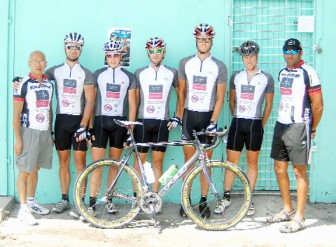 Teeter was quite unreserved talking about their training regimen. "We would train for like 20 to 25 hours per week, sometimes six or seven days a week. Cycling comes first in our lives, basically we ride and recover – if the legs get sore we don't want to go out and party so our legs feel worse the next day. We don't drink or do bad stuff to our bodies."
The riders noted that for the most part they stick to a regimented diet and they would travel with a cook to prepare their meals. The cyclists added that they have a diet that consists mainly of vegetables, fruit and meat.
But while cycling comes first, the riders acknowledged that they have to balance their training with their jobs as some of them work part-time to provide their livelihood.
"We have jobs, we have to work and balance the training, even though we have great sponsors that allow us to travel we are not paid. None  of us are professional riders per se  so  we still have to provide for our daily lives," Teeter told Stabroek Sport.
The team which is sponsored by Paso Prime Beef Company and Industrial Safety Supplies/Well Services Petroleum had four of their five riders placing in the top ten with Larsen and Teeter occupying the first two positions while Carr and Rodel placed seventh and tenth respectively.  Trinidadian Farrell is a former 3-time kilomrtre champion of the Caribbean and younger brother of one of Trinidad's cycling legends Robert Farrel. Sue who is Guyana-born living in the San Francisco Bay Area, California, is a former Northern California/Nevada Masters champion team persuit, top two in match sprints,top 10 National match sprints and 500 metres. The conversation with Stabroek Sport also touched on the topic of gym training. And Farrell maintained that "weight training is a big part of road racing."
"In the early stage we go to gym three days a week, coming into the racing phase two days a week and coming into the peaking phase we going there and max out like up to three reps," Farrel disclosed.
Riding as a team 
The riders said when it comes to road racing, riding as a team is much easier than riding individually.
According to Carr: "The focus is on the team, winning overall is what counts so whether it's Nicky, Larsen or myself or any of us our goal is for the overall."
And in terms of team strategy, Teeter explained further: "We went into each stage with a very precise plan, things didn't always go to plan but we knew what we were going to do at the beginning of every stage. We wanted to successfully get out of the stage and had some pretty darn good ideas how to go about doing that and every stage we thought it became more difficult to do what we wanted to do. . .  as guys (local riders) realized it would take more of them to work against us, it took a few stages for guys to make our jobs harder  but as soon as they did  it made our jobs 10 times more difficult so if you want to say if  us being here had any impact,  guys realized that if they work as a team it would be better."
Next level
Eventually Stabroek Sport put a 'hard talk' question to the team.  How do you see the Guyanese cyclists getting to the next level?
Larsen said: "Get someone from the outside who knows cycling, who also knows about the country, someone who knows how the race should function to show them (the national cycling team) how it's done in other countries, the U.S., Europe. The federation (Guyana Cycling Federation) needs to search for a person who knows the system."
Farrell then observed: "The roads are very good here for racing but there is need for a velodrome but all the in-house fighting is killing the sport when your sport should be thriving from the accessibility from all the neighbours." He added that Venezuela has fast track riders while Brazil has good road racers.
"Venezuela is right over there. Get into Brazil, Brazil has some of the world's best. The national team could be living in Brazil, racing and getting ready.  Brazil has some of the best road racers."
National colours
The GCF was eventually tagged.  "It's pretty sad that the national colours weren't recognized. You go to any part of the world and you would always see the national team wearing the national colours." Farrell forthwith declared that this has to be a fault of the GCF.
Top riders here
"The federation needs to motivate the cyclists to be better – they are very top riders here but if the federation is dysfunctional the whole cycling fraternity is dysfunctional. The federation needs people who can analyze the whole situation and get ideas from someone who's knowledgeable."
Meanwhile, the riders would like to return for the 2012 edition of the Ride for Life.
"It was a privilege for us to have a chance to win the race so I think we would have the privilege to at least have a chance to defend it," said Carr.
Around the Web