The Regional Super50 limited overs tournament bowls off today in Guyana at 09:00 hours and West Indies Cricket icon Clive Lloyd, for whom the winning  cup is named, is confident the tournament will be an exciting one.
He said there is a promising young crop of cricketers in the tournament who can take Caribbean cricket back to its accustomed position.
Sidelined West Indies opening batsman Chris Gayle, who has set the world alight with his exploits in Twenty20 cricket, will appear for Jamaica. Lloyd also hopes one day to see Gayle and Lendl Simmons open the batting for the WI.
He was at the time speaking at a press conference yesterday at the Princess Hotel where the important stakeholders outlined plans and expectations for the competition. The two matches today will be played between Guyana and Windward Islands in a Group B match at the Guyana National Stadium, Providence while Barbados will challenge Sagicor High Performance Centre (HPC) at the Everest Cricket ground in a Group A encounter.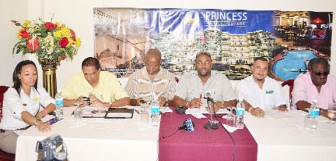 Guyana Captain Assad Fudadin had said on Monday that the team will miss former West Indies captain Ramnaresh Sarwan but added that the team was  in high spirits going into today's game and the tournament on the whole. Fudadin's side begins its quest for the ninth regional limited overs title and first since 2005.
"I am positive that this tournament will be an exciting one and this will be the start of great things for the young players since they can take our cricket back to the top because that is what we are accustomed to," Lloyd said yesterday.
"I have seen quite a few young players for the past year or so and I sure we are getting there. It will take some time as usual because nothing comes easily.
 The point is our cricket is on the up and one of the things I am looking forward to is Chris Gayle opening with Simmons and they ramp, it will be something to think about and watch," the 67-year-old former West Indies captain said.
He added: "We have a lot of other supporting acts, a lot of good young cricketers and I am looking forward to seeing them here like most of you are too. They would take our cricket to the top, that is what we are accustomed to and I think it's time that we get further up the ladder.
Lloyd, who scored 7,515 runs in 110 Test matches, acknowledged also that while WI's progress is not constant, this tournament will give the guardians of the game an opportunity to realise the talented players and then eventually merge those talents. Lloyd, who is also a Director on the West Indies Cricket Board and ICC's Cricket Development Officer, also indicated that the guardians will always support the cricketers to the hilt therefore it is important to give of their best every time they take the field.
"I am proud to say that a lot of  work has been done to get to the stage that we are at the moment and try to get out of the doldrums. The HPC centre has done quite a lot for our young cricketers", reassured Lloyd.
Meanwhile, Line & Length's Barry Wilkinson stated that this year the tournament will be one of the biggest in a while since many international stars will be featured. He named Gayle, Simmons and Trinidad and Tobago pinch hitter Kieron Pollard as some of the crowd pullers.
Also Line & Length will be partnering with Guyana's National Communication Network to bring ball-by-ball commentary for the entire tournament. The final will be carried live by ESPN, an unprecedented feature.
Wilkinson said the presence of Gayle and the others, along with the partnership and ESPN, will add value to the tournament that has Leeward Islands as the co-defending champions with Barbados.
"The value this year is pretty big and we expect the crowd participation to be big, hence why we had to source a lot of sponsors so that many in the Caribbean would not be deprived of listening to some of the best cricket in the region", Wilkinson noted.
President of the Guyana Cricket Board (GCB) Ramsey Ali said that all systems are in place for the tournament and preliminary matches are free for patrons while .they are required to pay $500 for the semi-final matches on October 26 and 27 and $1000 for the final on October 29.
Commentator Andrew Mason said that many local talents will be used to do commentary for the games. He said that there is talent in Guyana and the exposure will do well for them. NCN's John Ramsingh also said that he was satisfied with the pool of commentators and comments personnel.
Guyana: Assad Fudadin (Captain), Leon Johnson (Vice Captain) Christopher Barnwell, Ronsford Beaton, Sewnarine Chattergoon, Derwin Christian, Royston Crandon, Travis Dowlin, Jonathan Foo, Trevon Griffith, Steven Jacobs, Amir Khan, Steven Latcha, Paul Wintz
Head Coach: Mark Harper, Team Manager: David Black
Windward Islands: Devon Smith (Captain), Johnson Charles, Craig Emmanuel, Andre Fletcher, Xavier Gabriel, Denis George, Kevin James, Keddy Lesporis, Garey Mathurin, Nelon Pascal, Kenroy Peters, Dalton Polius, Liam Sebastien, Hyron Shallow
Head Coach: Ian Allen, Team Manager: Lockhart Sebastien
Barbados: Kenroy Williams (Captain), Tino Best, Sulieman Benn, Rashidi Boucher, Carlos Brathwaite*, Patrick Browne, Jonathan Carter, Ryan Hinds, Kyle Hope, Ashley Nurse, Dale Richards, Javon Searles, Dwayne Smith, Kevin Stoute
Team Director: Hendy Springer, Batting Coach: Emmerson Trotman, Bowling Coach: Vasbert Drakes, Physiotherapist: Dr. Jacqui King, Selector: Winston Reid
Sagicor HPC: Shamarh Brooks (Captain), Rajendra Chandrika (Vice Captain), Brandon Bess, Nkrumah Bonner, Kyle Corbin, Keron Cottoy, Andre Creary, Shane Dowrich, Shannon Gabriel, Jason Holder, Delorn Johnson, Kevin McLean, Veerasammy Permaul, Devon Thomas
Head Coach: Andre Coley, Assistant Coach: Roddy Estwick.
Around the Web