Gladiators played undefeated to be the only team to qualify for Bartica in the Super 16 stage when the Mackeson Smooth Moves 3-on-3 Basketball Tournament continued last weekend in Bartica and Berbice.
At the Bartica Community Centre Basketball Court, the quartet of Richard Gray, Reyon Moe, Adrian Kendall and Dwayne Bowen representing Gladiators dominated their opponents in Region Seven which comprised of Bartica Bulls, Sharp Shooter, J-Warriors, Bullets and Gully Squad.
According to a press release, Gladiators not only played undefeated in their five games but walked away with the zone winning prize of $40,000 and will be the only team from Bartica in the Super 16 round that gets underway from November 5.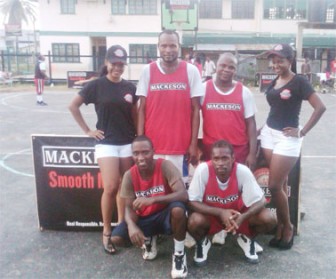 Gladiators played a defensive brand of basketball as none of their final game scores were in double digits.
According to the press release Bowen, the team  captain, stated that "this is more than just a normal win for us today (Sunday); this will give us a chance to showcase what we have to offer."
He also expressed his delight that Ansa McAl is trying to decentralize basketball by bringing it to communities such as his.
"We actually hope that this would be an annual event up here and hope it would be bigger next year because three-a-side or not, we always want to showcase our talent to other people. None of us has ever played competition outside of Bartica, just 'scrubby' so going to Linden will mean a lot to us.
"We will be representing Bartica, not just our team and I know for a fact that Linden, Berbice and Georgetown have players and teams who are seasoned  and more experienced than us, but we will come as the underdogs and put on a good show and also show people that there are  good players outside of Linden and Georgetown cause that's all everyone focus on," Bowen concluded.
In Berbice, Demolition which featured the likes of Kirk Fraser, Carlos Crandon, Dellon Grant and Leroy Edwards were flawless as they came out on top in Group 'A' while Panthers also advanced to the second round in the zone. Being grouped with Hustlers, Cool Runnings and Scheme Dream, Demolition and Panthers made their competitors look like school kids as they overcame their opposition easily in front of a full house.
The only loss for Panthers came via the hands of Demolition before they toppled the rest of their opponents during the night's proceedings.
Meanwhile last Saturday's matches at Burnham Court were rained out and a date for those games will be announced later, a release noted. However, the tournament will continue today at the Albouystown basketball court before heading to Berbice on today for their final group games.
Around the Web