Leather prevailed over willow and bowlers capitalised on poor batting as hosts Guyana defeated the Windward Islands by 103 runs in their opening Group B encounter of the Regional Super50 limited overs competition for the Clive Lloyd Cup at the Guyana National Stadium ground yesterday.
Off spinner Steven Jacobs (4-21) and right-arm fast medium pacer Paul Wintz (3-15) were the architects of  Guyana's comfortable win.
The two bowlers replicated what Nelon Pascal (4-38) Garey Mathurin (3-38) had done earlier to restrict the Guyanese to 192 from 50 overs.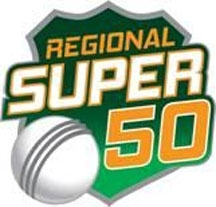 However, when Windwards responded there would be no saving grace to stem the constant fall of wickets and they eventually folded for 72 in 24.5 overs, chasing a revised Duckworth–Lewis total of 176.
Hyron Shallow was the highest scorer with 17 runs; Denis George supported with 14 and Pascal made an unbeaten 12.
In Guyana's innings, skipper Assad Fudadin top scored with 45 and received support from Christopher Barnwell (38) and Travis Dowlin (31) after they were sent in by the visitors.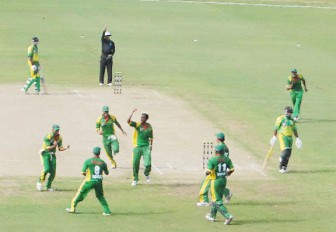 There was nothing unfamiliar about Guyana's batting collapse on the flat stadium track. The team lost an early wicket when the score was 15 then had a few solid partnerships before another decline put paid to the team's chances of reaching the 200 run mark.
Fudadin, who has built a reputation for himself of throwing away his hand after doing the hard work, started the rehabilitation process with Leon Johnson. They scored at a pedestrian 2.9 runs per over, making a mere 47 runs in 16 overs with few singles involved.
Fudadin drove with precision: both boundaries, which  pierced the extra cover and midoff regions in the early stage of his innings, came off right arm medium pacer Craig Emmanuel while Johnson's cutting left no rough edges.
Then Mathurin had Johnson (19) caught and bowled in the 21st over when the score was 62. Some urgency stepped in to the batting when Dowlin strode to the wicket, picking up a few quick singles and the occasional twos to add some life to the proceedings.
Fudadin's time at the crease ended after he faced 102 balls for 45 when he was trapped lbw by Mathurin when the score was 92.
After this loss, the Guyana side was back to its adopted accustomed position: losing wickets without piecing partnerships together and losing wickets through injudicious shot making.
Former West Indies batsman Royston Crandon scored 10 quick runs but played across the line of a straight delivery, attempting a sweep, and was dismissed lbw off the bowling of George. Jonathan Foo, did not last long at the crease, losing his wicket three balls after the final batting power play started in the 36th over for one.
Dowlin, kept the waning Guyana innings together, if only temporarily, with Barnwell. However, Mathurin and Pascal made breakthroughs, dismissing Dowlin and Derwin Christian respectively and leaving Guyana at 138-7.
Barnwell shared an 18-run eighth wicket partnership with Steven Jacobs (9) who was brilliantly taken by George off a diving effort at extra cover. Then recklessness stepped in: Paul Wintz hesitated on running an easy single and was run out by almost a length of the wicket.
By this time Guyana had slipped to 157-9 when Barnwell decided to open his shoulders. He hit George for a six over wide midwicket and followed up with a four through the same region. Pascal also was hit for four through wide long on before he was bowled off the last ball of the innings for 38 (2×4, 1×6).
In reply the Widwards were off to a nightmare start, losing their first five wickets for 13 runs, three belonging to Wintz. The right arm fast medium pacer made the first dent in the in the Windwards line up when he had Johnson Charles stumped by Christian for one in the second over.
Jacobs had the prized scalps of Devon Smith (0) and Andre Fletcher (2) and struck again when Craig Emmanuel was caught by Foo for seven as the visitors languished on 29-6. The other partnerships that ensued delayed the inevitable.
Meanwhile, Group B teams Combined Campuses and Colleges (CCC) take on Trinidad & Tobago at Everest and Jamaica clash with joint defending champions Leeward Islands at the Guyana National Stadium.
Scoreboard
Guyana innings
T. Griffith c George b Pascal 10
A. Fudadin lbw Mathurin 45
L. Johnson c&b Mathurin 19
T. Dowlin c Shallow b Mathurin 31
R. Crandon lbw George 15
J. Foo c wk Fletcher b Pascal 01
C. Barnwell b Pascal 38
D. Christian c Shallow b Pascal 02
S. Jacobs c George b Sebastian 09
P. Wintz run out (Sebastian/Fletcher) 01
S. Latcha not out 07
Extras (w12, lb1, nb1) 14
Total (all out off 50 overs) 192
Fall of wickets: 1-15, 2-62, 3-92, 4-117, 5-124, 6-134, 7-138
Bowing:  Pascal 9-0-38-4 (w8), Peters 5-0-19-0 (w2), Emmanuel 5-0-20-0 (w1), Sebastian 12-0-41-1, Mathurin 12-0-38-3 (w1), George 7-0-35-1 (nb1)
Windward Islands innings
J. Charles stp Christian b Wintz 01
D. Smith c Wintz b Jacobs 00
A. Fletcher lbw Jacobs 02
K. Lesporis c wkpr Christian b Wintz 03
L. Sebastian lbw Wintz 01
H. Shallow c Foo b Barnwell 17
C. Emmanuel c Foo b Jacobs 07
G. Mathurin b Jacobs 05
D. George run out (Foo) 14
K. Peters c wkpr Christian b Latcha 04
N. Pascal not out 12
Extras (w5, nb1) 06
Total (all out off 24.5 overs) 72
Fall of wickets: 1-01, 2-06, 3-07, 4- 09, 5-13, 6-29, 7-42, 8-42, 9-59
Bowling: Jacobs 10-1-21-4 (w3, nb1), Wintz 5-0-15-3 (w2), Barnwell 6-2-22-1, Latcha 2.5-0-14-1, R. Crandon 1-1-0-0
Around the Web