By Emmerson Campbell
Gwendolyn 'Stealth Bomber' O'Neil along with Iwan Azore and Clive 'Wonder Kid' Atwell are officially part of the 'Thirst Park Explosion', a Guyana Boxing Board of Control (GBBC) card which is scheduled to be held on October 29.
O'Neil, Azore and Atwell made their respective bouts official by placing their signatures on their contracts yesterday at the Abdool and Abdool building on  Avenue of the Republic.
The three overseas-based boxers lately arrived in Guyana and as a result were unable to sign their contracts at the first contract signing on October 5.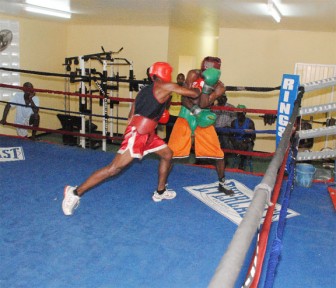 The Brooklyn, New York based O'Neil, who is Guyana's first female world champion, will defend her Women's International Boxing Association (WIBA) Heavyweight title against Pauline London in a 10-round affair.
The battle-tested O'Neil has a record of 17 wins, seven losses and one draw with seven of those victories coming by knockout in her 25-fight career. London, meanwhile, has four wins and eight losses in her 12-fight career, with two of her victories ending within the distance.
Azore, who is Trinidad-based, will match gloves with Troy Lewis in a return  eight-round catch weight bout, while  Dominica-based Clive Atwell will face  journeyman Orlon 'Pocket Rocket' Rogers in a four- round catch weight fight.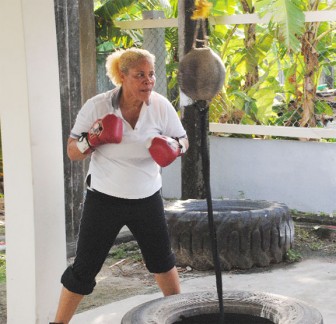 Azore has a record of four wins, four losses and two draws while Lewis has a record of four wins, 11 losses and one draw.
Atwell, the former amateur champion, has a professional record of four wins and one draw, winning three of those bouts inside the distance.
Rogers on the other hand has a record of four wins and 11 losses with a no contest. Rogers won his last fight on points at the Cliff Anderson Sports Hall in July against Barbadian Selwyn Lett.
The six-fight card will also include  Jermaine 'Star Boy' King coming up against Mark Austin, a return six-round welterweight contest, 'Mr Chin Checker' Simeon 'Candy Man' Hardy versus Barbados-based Julian 'Thunder' Tanniss in a six-round light middleweight fight, while the card will be headlined by Howard 'Battersea Bomber' Eastman and Edmond DeClou for Eastman's local middleweight title.
In an interview with Stabroek Sport, Atwell highlighted  his preparation and expectations for his bout with Rogers.
"This is a follow-up preparation from two months ago. Two months ago I was to fight Gardel Roberts from Barbados but there was some unfortunate mishap coming down to the fight so I never came, so further negotiations were made for this fight even this fight I have wasn't without its hurdles because a lot of my opponents were changed. The body is in shape and I have worked a lot on my punching power which was one of my weak areas," Atwell noted.
"I am scheduled to work with Lennox Daniels who is one of the best in the country so I know I will be in good hands," said the  'Wonder Kid'. Atwell was billed to fight Ray Sandiford, but Sandiford pulled out of the fight citing a lack of preparation. Sandiford stated however that he is willing to match gloves with Atwell on next month's card or in December.
Speaking on his plan going into the contest Atwell said: "I will be going into the fight cautiously as I've sparred with him (Rogers) before and I will go very cautiously but at the end of the day I expect to come out victorious by whatever means necessary. I will be looking for whatever weakness in the moment and try to capitalize on them."
Azore stated that while he is in Guyana he will be under the watchful eye of Carl Franklin, training in the Golden Grove gym on the East Coast.
Azore added that he will let his fists do the talking in the ring as he did in the previous bout with Lewis to come out the victor.  The 'Stealth Bomber' in an invited comment mentioned that she is in tip top shape and is ready to unleash her bombs. The world champion promised to be victorious and mentioned that although she is not looking past London she will be using the fight as a warm-up for her more serious Boxing Day assignment.
O'Neil is scheduled to face Nigerian Ijeoma 'The Praise' Egbunine in a return bout in Nigeria for the vacant World Boxing Council (WBC) female heavyweight title on December 26. O'Neil lost the first bout in May by unanimous decision.
Egbunine is the number one rated female heavyweight boxer in the world with an impressive record of 17 wins and two losses with 10 of her wins by KO.
The weigh-in for the 'Thirst Park Explosion' card will be held on October 28 at Thirst Park at 19:00 hrs.
Sponsors of the event include Digicel, Giftland Office Max, Courts, Banks DIH Limited, NCN and Ansa McCal.
Admission for inner ringside is $2500 while regular seats costs $1500. Bell time is 20:00 hrs.
Around the Web