By Emmerson Campbell
Bronze medallist at the recent 28th World Masters Power Lifting Championships, John 'Big John' Edwards says that despite not winning the gold medal, he is proud of his achievement. 
'Big John' returned on Monday after competing in the championships in St Catherine, Canada, from September 26 to October 4.
In an interview with Stabroek Sport, 'Big John' said that the bronze he won is like a gold medal, considering the circumstances under which he had to compete.
Edwards who competed in the 120kgs/265lbs M1 weight class and was ranked number seven entering the championships lifted a total of 845kgs/1859lbs.
'Big John' lifted his bronze medal by squatting 332.5kgs/731lbs, bench pressing 220kgs/484lbs and dead lifting 292.5kgs/643.5lbs.
The bronze medalist successfully performed five lifts out of a possible nine, one of three squats, two out of three bench presses and two out of three dead lifts.
Edwards was runner-up to Canada's Francis Rousseau who placed second and gold medal winner Michael Mastrean of the USA.
Edwards spoke of his bronze medal winning performance.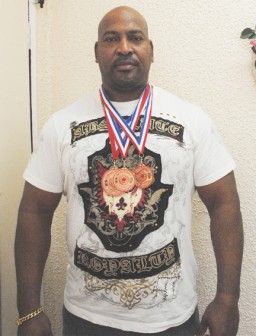 "I feel good knowing that I got the bronze medal because winning a gold medal is extremely difficult, to even medal at a championships with that calibre it is a great achievement. I won the bronze but my bronze is like a gold (medal) knowing the circumstances I competed under, I ended up beating people that were even ranked higher than me, it is a great achievement. I was even singled out for drug testing twice because the referees could not believe it."
What are your comments on
the trip to Canada?
"It was a good trip except for not having someone else who is knowledgeable about the sport to assist me. Power lifting is the type of sport that the gears we wear you need assistance to get them on, my wife went along as a supporter but she can't get them on, also to warm-up you need someone to help put the weights on the bar and every athlete has their own people they wouldn't leave their guys to help you load the bar to help you warm-up."
Miscommunication caused Edwards to be an hour late for the competition and as a result he was forced to forfeit his first lift as he was not even in his power lifting gear.
Edwards was at a disadvantage and his confidence started to go.
"My confidence level was very low because power lifting is a sport you can't just walk off the road and lift 730 pounds or 750 pounds, it's impossible, power lifting is a sport where you need to stretch, you need to get your muscles warm in any sport be it athletics, football and I didn't have any opportunity do that," said Edwards.
Despite having to forfeit his first lift, Edwards stayed focused and registered his other lifts to stay in the competition and like a true professional 'Big John' settled in and began to execute.
What are your views on the championship?
"The championships were no doubt the highest and strictest tournament I have ever competed in -there is no flexibility in terms of judging and so on if they set a time for you to lift, if you are a second late next person, there is no flexing of the rules there."

What kind of support did you receive from Guyanese while you were in Canada?
"The Guyanese Canadian community after hearing about my medal winning performance became very excited and in fact I was featured in the Canadian Caribbean newspaper. They did a full page article also some Guyanese living in Canada pledged their support for me for next year financially."
Edwards mentioned that his immediate plan is to compete at the South American championships slated for Colombia in June next year.
Edwards also spoke about returning to the World Masters Power Lifting Championships.
"I would like to go back to the world championships and bring home the gold because I know I can do it, I will be more prepared, I will be more recognized and seasoned."
'Big John' thanked the president of the Guyana Amateur Power Lifting Federation (GAPF), Peter Green, Mrs. Gaskin from Cops Security, Mr. Boyle from Eureka Labs and Mrs. Lawrie from Habla Meat Centre for helping him to achieve his accolade.
What is your advice for up
coming power lifters?
"Never underestimate the level of competition because you never know who will show up – keep training, stay focused and don't be  involved with drugs and performance enhancement, try to be as natural as you can."
In addition to his bronze medal at the World Masters Power Lifting Championships, Edwards is also the current Open and Masters M1 category champion.
He is also the 2008 IPF/NAPF Regional Gold Medalist (2) – Open and Masters M1 2009 IPF/NAPF Caribbean Gold Medalist (2) – Open and Masters M1 2009 IPF Pan American Gold Medalist (2) – Open and Masters M1 2010 IPF/NAPF Caribbean Gold Medalist (2) – Open and Masters M1 2011 IPF/NAPF Caribbean Gold Medalist (2) – Open and Masters M1. 
Edwards also maintained that the sport of power lifting needs more corporate support, exposure and recognition.
Around the Web