Kyle Mayers and Floyd Reifer guided the Combined Colleges and Campuses (CCC) to a comprehensive upset five-wicket victory over Trinidad & Tobago at the Everest ground yesterday in the Regional Super50 Group B match.
Mayers' unbeaten 40 (5×4) swung the pendulum back the CCC's way after Trinidad had seized  some control the first time in the match during the middle overs of the college boys' chase. T&T's shining light with the bat Jason Mohammed, who top scored with 77, must be kicking himself after he dropped Mayers on 27 when T&T were clawing their way back into contention.
In the end Man-of-the-Match Mayers, who also took 2-32 earlier in the day, stroked off spinner Sherwin Ganga down the pitch for four to seal the win with former West Indies batsman Reifer, who finished on 34 as CCC ended on 178-5 (48.4), chasing 174 for victory. T&T had posted 173-9 from the 50 overs.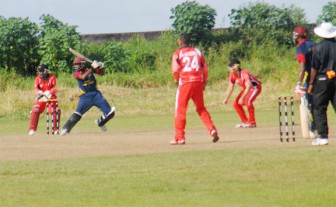 Myles Bascombe and Rommel Currency gave the CCC the foundation for the win with contributions of 45 and 31 respectively. Ganga, Kevon Cooper, Reyad Emrit and Sunil Narine all got one wicket apiece.
The Trinidadians looked quite out of their element when they batted and more particularly when their bowlers initially commenced the defence of the team's small total. The bowling lacked penetration and the CCC openers Currency and Bascombe capitalised on the seemingly lethargic bowlers.
Bascombe was the more  dominant of the two batsmen early in the innings, hitting spinner Samuel Badree over his head for six off the last ball of the opening over before working him through mid-on for a four in the fifth over. Currency joined the party in the next over when he drove Dwayne Bravo for four through gully.
Bascombe, asserting himself on the bowlers, drove Narine for four through extra cover and was dropped the next delivery by Darren Ganga. After that near miss the two brought up their team's 50 when Currency square cut Badree past a diving Sherwin Ganga at point for four in the 12th over.
Nothing changed with the batsmen but right arm fast medium pacer Emrit broke through in the 20th over when he bowled Currency for 31, which included three  boundaries. In the next over Cooper struck again, trapping Nicholas Alexis lbw for nought.
Subsequently, some spirit returned to the Trinidadians. They had some close lbw shouts turned down and runs dried up for the college boys. They managed to score a mere nine runs in the next five overs before Bascombe was dismissed lbw for 45 (3×4, 1×6).
Reifer, former West Indies cricketer, after playing himself in, lofted Dwayne Bravo for a mighty six straight back over his head and followed up two balls later with a four
Scoreboard
T&T Innings
W. Perkins lbw Kantasingh                                                      00
J. Guillen run out (Parris)                                                        14
D. Ganga lbw Mayers                                                                 09
D J. Bravo c Parris b Mayers                                                  09
J. Mohammed run out (Alexis)                                            77
S. Ganga c wkpr Smith b Dawes                                             12
K. Cooper lbw Kantasingh                                                      10
R. Emrit run out (Currency)                                                  11
S. Badree b Parris                                                                       04
S. Katwaroo not out                                                                  04
S. Narine                                                                                        03
Extras (w13, lb6, nb1)                                                              20
Total (for 9 wickets off 50 overs)                                      173
Fall of wickets: 1-4, 2-22, 3-37, 4-43, 5-69, 6-88, 7-129, 8-142, 9-170
Bowling: Dawes 8-1-22-1 (w4), Kantasingh 12-4-30-2, Mayers 7-0-32-2 (w3), Austin 12-3-35-0 (w5), Parris 10-0-36-1 (w1), Currency 1-0-12-0 (nb1)
CCC Innings
R. Currency b Emrit                                                                  31
M. Bascombe lbw Narine                                                        45
N. Alexis lbw Cooper                                                                00
F. Reifer not out                                                                          34
N. Parris stp Katwaroo b S. Ganga                                       09
R. Wiggins run out (Emrit/Katwaroo)                               00
K. Mayers not out                                                                       40
Extras (w11, b2, lb5)                                                                 18
Total (for 8 wickets off 48.4 overs)                                   177
Fall of wickets: 1-76, 2-77, 3-86, 4-116, 5-116
Bowling: Badree 7-1-30-0, DJ Bravo 7-0-34-0, Narine 12-1-35-1, Emrit 6-2-10-1, Cooper 6-0-31-1, S. Ganga 10.4 2-30-1
Around the Web