The Chris Gayle-led Jamaican side made light work of the co-defending champions Leeward Islands  as they clinched a thoroughly convincing seven-wicket victory in a Group B encounter of the 2011 Regional Super50 limited overs competition at the Guyana National Stadium, Providence, yesterday.
Jamaica scuttled the Islanders for a miserable 96 all out in 35 overs before romping to their target in just 15.4 overs, scoring 101/3 in the process.
Earlier, the day's proceedings commenced 90 minutes late at 10:30 am due to overnight showers in the area, which resulted in the match being reduced to a 45 overs-a-side contest.
The Jamaicans, according to coach Junior Bennett, chose to rest from their starting eleven, senior West Indies fast-bowler Jerome Taylor, who also has been missing from the regional side in all formats since June 2010.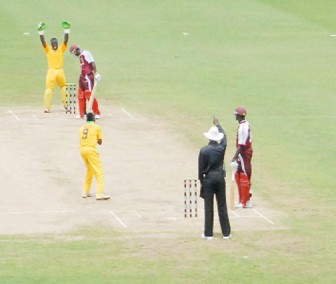 After winning the toss they gave the Leewards the tricky task of batting first in  overcast conditions.
New-ball pair of left-arm swing bowler Krishmar Santokie who has built a reputation among some pundits in recent years as being one of the better Twenty20 bowlers in the Caribbean and strongly built right-arm fast-bowler Andrew Richards were seemingly relishing the bowling conditions, as they immediately put the brakes  on the Leeward Island innings – restricting them to 12/0 in the initial five overs.
Havoc then erupted in that same  fifth over when Santokie struck twice in successive deliveries; firstly removing Austin Richards Jr.  leg-before playing around his front pad – then next delivery Chesney Hughes was bowled for a golden duck as the Javia Liburd side slipped to 12/2.
From here on the Leewards, who also lost heavily to the Windwards Islands in two practice games last week, became a futile procession with wickets falling at regular intervals.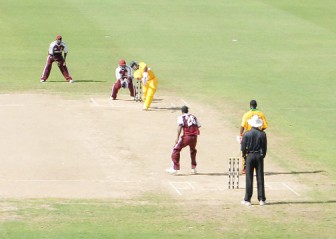 The spin pair of leg-spinner Odean Brown and former West Indies limited overs left-arm spinner Nikita Miller continued from where Santokie and Richardson left off as they chipped away at the Leewards middle-order, clinching two wickets a piece.
With the dismal Leewards batting effort concluding before the scheduled lunch interval, Jamaica had eight overs to bat in which skipper Gayle and fellow opener Kennar Lewis gave the boys from the "Land of Wood and Water" an energetic start of 55 without loss from eight overs when the umpires halted play.
At the resumption, Gayle perished first over after the break, bowled playing back to a delivery from off-spinner Justin Athanaze for 22 (30 balls, 1×4, 2×6). Both of his sixes came in one over from left-arm spinner Jason Campbell into the green stand.
Lewis 28 (25 balls, 2×4, 2×6), leg-before to other off-spinner Jacques Taylor attempting a paddle sweep and Shawn Findlay dismissed for just 1 were the other wickets to fall before Xavier Marshall 18 and Tamar Lambert 18 and 24 not out respectively, safely guided Jamaica home without further hiccups, with Lambert hitting 16 runs off Taylor's over to bring an end to the one-sided contest.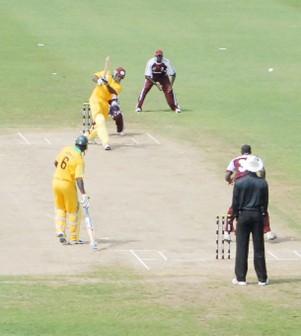 Given the magnitude of Jamaica's victory they would have earned eight points (four for victory, two Super Bowling points for dismissing Leewards for under 150 and two Super Batting points for scoring more than six runs per-over).
The Skeldon Cricket Club also will be collecting US$1000 for the combined victory and sixes hit during the Jamaican innings. The three sixes and bowled dismissal of Gayle by Justin Athanze will see the South Essequibo Cricket Club allotted US$200.
Both sides are in action tomorrow with Jamaica facing Combined Campuses and Colleges who upset one of the pre-tournament favourites Trinidad and Tobago at Everest. Simultaneously Trinidad will do battle with the Leewards at Providence Stadium.
Today's matches will see host Guyana tackling the Sagicor High Performance Centre at Providence, while Barbados lock horns with Windward Islands at Everest.
Scoreboard
Leeward Islands (maximum 45 overs)
*J. Liburd b Miller                                                 11
A. Richards lbw b Santokie                                  9
C. Hughes b Santokie                                              0
M. Hodge c *Gayle b Brown                              17
O. Peters lbw b Brown                                           7
+J. Hamilton b Findlay                                          1
J. Taylor lbw b Miller                                             4
J. Athanaze c *Gayle b Santokie                      23
G. Tonge b Richardson                                        10
L. Baker not out                                                         7
J. Campbell run out                                                  3
Extras (lb2, w3)                                                         5
Total (all out, 35 overs)                                     96
Fall of wickets: 1-12, 2-12, 3-28, 4-46, 5-29, 6-49, 7-62, 8-86, 9-86
Bowling: Santokie 10-1-30-3, Richardson 7-3-12-1, Miller 9-1-22-2, Brown 8-2-21-2, Findlay 1-0-10-0
Jamaica (target: 97 off 45 overs)
*C. Gayle b Athanaze                                           22
K. Lewis lbw b Taylor                                          28
X. Marshall not out                                              18
S. Findlay lbw b Athanaze                                   1
T. Lambert not out                                              24
Extras (w3, nb5)                                                     8
Total (3 wkts, 15.4 overs)                            101
J. Blackwood, +C. Walton, N. Miller, O. Brown, A. Richardson, K. Santokie did not bat
Fall of wickets: 1-55, 2-57, 3-60
Bowling: Tonge 4-0-28-0, Baker 2-1-10-0, Campbell 2-0-17-0, Athanaze 4-0-16-2, Taylor 3.4-0-30-1
Result: Jamaica won by seven wickets
Points: Jamaica 8, Leewards -2
Man-of-the-Match: K. Santokie (Jamaica)
Umpires: G. Brathwaite, P. Nero
Match Referee: C. Stuart
Reserve Umpire: N. Shivsankar
Around the Web