By Iva Wharton
Guyana's female heavyweight boxing champion Gwendolyn O'Neil says her match against Pauline London is one of the things she is doing to warm-up for her upcoming match with Nigerian Ijeoma Egbunine but her main reason for returning home is family.
O'Neil who arrived in Guyana last Friday, spoke with Stabroek Sport yesterday at the Andrew 'Six heads' Lewis gym where she is in training. The 'Stealth Bomber' said while she is fully prepared for the fight and has been training round-the-clock in the US where she resides, "I saw Pauline fight, but she does not have anything to put me away."
A confident O'Neil said she is preparing to face Egbunine at the Owerri Soccer Stadium in Nigeria. "I beat Ijeoma in Atlanta the last time and now me and she got to fight the 26th December for the WBC title. So I said let me defend one of my titles first. I ain't business about no hometown advantage, because I fight all over the world and I could go till in you hometown and beat you," she added.
The Stealth Bomber is also doubtful that London will give her any real practice as she prepares for the December fight, "Pauline is short and Ijeoma is tall, so after this, [I] will stay back a little and prepare for the fight in Nigeria, but still have to go to Nigeria for a press conference."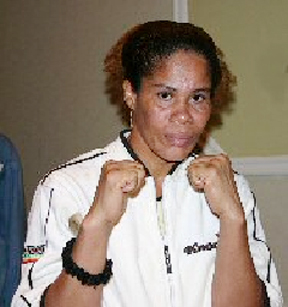 Her first meeting against Egbunine was a warm-up match.
The heavyweight champion also said she has been getting a lot of support from a number of Guyanese boxers living in the US including Rawle Frank and Leon 'Hurry Up' Moore. The lone female she was sparring with no longer attends the gym, "I knock she out and she never come back," she said. O'Neil also said she does not have much work to do and is focused on light training where she is currently working on fine-tuning her technique, skills and speed.
O'Neil, a mother of seven, said her decision to spend more time in Guyana is not all about boxing, but legalizing the adoption of her four-year-old-son Denzel. She has raised Denzel from a baby and she wants to be able to spend more time with him as, "He grieves for me when I gone." Her other adopted son, 14-year-old Lawrence who joined her in the US three months ago is doing great in school. O'Neil adopted Lawrence after his mother died. He had previously lived in Albouystown.
Her other children are also doing well in school. The eldest, Deborah, is now in college pursuing studies in the medical field. "I have them focused on their school work, but the lil one Joshua plays school rugby, he is a champion in that. But I got them studying hard, because I want them to become doctor. I have a lot of doctors in my family," she said. Asked whether any of her children are interested in emulating her, O'Neil said her third child, 18-year-old Sophia, wants to take up boxing but said she first has to prove herself academically.
When this newspaper asked the heavyweight champ why she decided to adopt, a smiling O'Neil said her mother had 21 children and she does not like to see children suffer. She related that boxing is her career and she does not have another job because it has allowed her to provide for her children.
Around the Web