At the age of nine not many persons can say that they have already decided on a career, not so for Priyanna Ramdhani who has her eyes set on excelling at the highest level of the sport of badminton.
This petite, Marian Academy Grade 5 student seems destined to soar to great heights as she's already proving to be a promising talent in the national and regional badminton arena.
The daughter of Guyana Level Three World Badminton Federation coach Gokarn Ramdhani and sister of fellow national badminton player 13-year-old Narayan Ramdhani, Priyanna was born with badminton in her blood. The cheery national girls' under-11 champion spoke eagerly about her enjoyment in playing the sport when she sat down with Stabroek Sport earlier this week.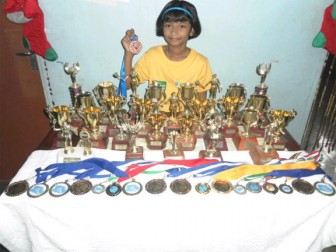 Priyanna said she loves badminton and puts in a lot of hard work to ensure that she's at the top of her game. "It feels great, it's very fun, but we have to do a lot of work," she added. And, with a smile, Priyanna said seeing her brother and father playing the game has always encouraged her not only to want to participate but to be the best player. Her mother is also a major source of support.
A member of the Yonex Badminton Club, Priyanna trains three hours per day, three days per week. She first started playing the sport at the tender age of four; now five years into the game she has started to display her competence in the sport, winning several medals in both the national and regional arenas. Priyanna usually plays in the under-11 age category, but she is not one to shy away from a challenge and is known to play in competitions as high as the under – 19 age category, medalling in several of the higher age categories.
A champion at heart, Priyanna boasts a sizeable collection of trophies and medals and she currently holds the girls' under-11 and under-13 singles titles. In July, at the Pan American Badminton Championships in Jamaica she won third place in the under-11 mixed doubles category where she partnered with El Salvador's Pedro Vasquez. She also gained two second place medals in the girls under-13 singles and the under-13 mixed doubles where she teamed up with Barbadian Jordan Ollivierre at the Caribbean Badminton Championships held in August.  Asked how she feels about playing at the regional tournaments, Priyanna confided that she used to feel nervous but experience has erased it.
"I went to a lot of tournaments already so I'm not nervous anymore.
I just play and I like being able to go to the other countries," she said.
So far for the year on the local scene, she mastered the girls under-11 singles at the Mashramani Junior Singles, and the under-13 Easter Junior Tournament. And it's not just all badminton for this talented little lady; she also plays table tennis and is a member of her school's chess club. Priyanna has proven to be an asset to her school at its inter-school competitions. But, with a few years away from a top world ranking position, in the meantime she remains focused on winning every competition.
Around the Web