From Treiston Joseph in Suriname
Guyana marginally lost to French Guiana in their first basketball encounter at the 2011 Inter Guiana Games (IGG) held in Suriname at the Anthony Nesty Stadium.
In a tough physical battle Guyana went down 81-85 to their French counterparts as bad refereeing seemingly played a part in yet another sport discipline.
The Guyanese had shot out of the gates with the support of their counterparts cheering as they played lock down defence that prevented  the French from penetrating and scoring at the rim while playing high octane offence.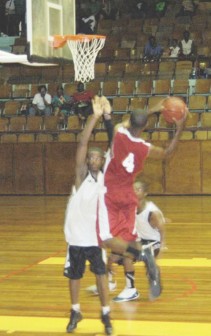 Guyana continually penetrated the defence of French Guiana but allowed the Frenchmen to stay in the game by giving up open jump shots.
With the first quarter ending 29-21 in Guyana's favour, the boys clad in red and white uniforms seemed poised to dominate French Guiana as they usually do each year.
However, this was not the case as French Guiana's point guard Rodrick Jean-Christophe helped his teammates wearing white vests and black shorts to slowly chip away at the lead with his smooth jump shots.
The Guyanese were able to hold off the comeback somewhat as they ended the first half on top with a 41-40 score line.
Coming into the second half the Frenchmen looked rejuvenated and they took their first lead in the third quarter with the score changing to 48-47 with 6:07 minutes on the clock.
The Guyanese seemed tired as they began to commit simple turnovers allowing French Guiana to gain confidence in running the fast break and scoring inside picking up a number of three point plays.
Clutch plays from guard Nikoloi Smith ensured that Guyana regained the lead at the end of the third quarter with the score on 66-63.
But French Guiana duly tied the game at 74 with 2:23 minutes left in the game.
Turnovers were once again crucial as it cost Guyana the lead as Jean-Christophe proved crucial to his team's offense scoring on the fast break while making plays for himself and his teammates down the final stretch of the game.
With French Guiana reaching the 84 point mark and Guyana on 79 with 52.9 second on the clock a turnover by point guard Dominic Vincente sealed Guyana's fate with the score 81-84 at the final buzzer. Richard Mohandatt played brilliantly for Guyana as he scored 17 points while Douglas, who made some inspiring plays down the stretch to ensure that Guyana stayed in the game, ended with 16 while Smith finished with six.
Jean-Christophe ended with 23 points for French Guiana while his teammate Karim Marcellim finished with 21 points.
Meanwhile the Guyanese men will match up against Suriname today while the females will take to the court for their first game.
Around the Web