Despite threats from the inclement weather organizers expect a prompt start to the R1 Vodka-sponsored Guyana Open Golf two-day tournament which tees off this morning with a large overseas contingent ready to match skills with their local counterparts at the Lusignan Golf Course.
Officials of the sponsors Banks DIH will send the golfers off at 06:30 hours in the tournament even as officials keep an eye on the weather which has been forecast as overcast with showers over the two days by the local meteorological office.
The overseas players from United States, Canada, Suriname and Trinidad and Tobago are already here and it is anticipated that over 70 golfers will tee off.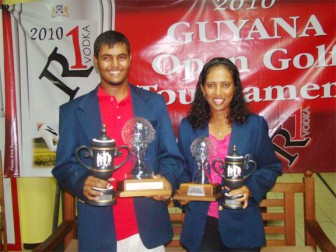 Papo Haniff, a professional based in Trinidad and Tobago is here as well as a 10-member team from the Paramaribo Golf Club of Suriname.
The Suriname delegation includes Petra Beem, Allan Deldsdijder, Vijay Jaikaran, Dean Linger, George Brahim, Odile Neguede and Rudy Vaissaire while representing the players from Canada and the United States will be Roger Rajkumar, Andrew Claxton, Salim Rasheed, Mo Saffie, Seepaul Sukhnanan and Shafeek Subhan.
Guyana's Avinash Persaud and Christine Sukhram will be going after their third successive title in the men's and women's competition respectively   following their success in 2009 and 2010.
Both players are in top form but a very competitive field and the weather could pose some challenges.
The local players will be going all out to stop the international invasion following the success of Rajkumar in last weekend's Digicel two-day Classic.
The tournament will be divided into four handicap flights with the top players competing in the 0-9 handicap flight.
There are also 10-18 and 19-28 flights for the men as well as the ladies flight 0-28.
The local contenders in the championship flight will include past champions Mike Mangal, Imran Khan, Alfred Mentore, Mohanlall "Santo" Dinnanauth as well as Vijay Deo, William Walker, Patrick Prashad, Munaff Arjune.
Other leading contenders for the other flights include Avinda Kishore, Colin Ming, Mark Lashley, Roy Cummings, Chatterpaul Deo, Kishun Bacchus, Muntaz Haniff, Fazil Haniff, Hilbert Shields, Bhowlaram Deo, Rawle Moore, Dr. John Ramsingh, Joaan Deo, Ronald Bulkan, George Bulkan, John Tracey, Brian Hackett, Mike Gayadin, Andre Cummings, Esau Shamshudin, Carlos Adams, Clifford Reis, Gavin Todd, Robert Hanoman, Maurice Solomon.
Around the Web