The finals of the People's National Congress/Reform countrywide dominoes tournament in memory of the late Linden Forbes Sampson Burnham will conclude today at the Girls Guides pavilion, Brickdam, from 1pm, organizer Mark `Jumbie' Wiltshire told Stabroek Sport yesterday.
According to Wiltshire, senior Organising Secretary of the Guyana National Dominoes Association (GNDA) the 24 teams remaining in the competition will compete on a two in one out basis  for a trophy and $180,000.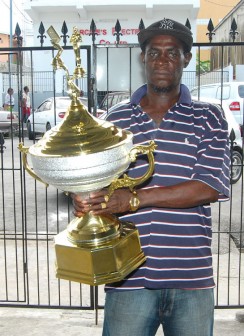 The second, third and fourth placed teams will receive $100,000, $70,000 and $20,000 respectively.
Teams from Georgetown, East Coast and East Bank Demerara, Linden, Essequibo and Berbice have entered the two week competition which has at stake $370,000 in prize monies and trophies.
Mark Walkes and representatives of the PNC/R will be on hand to make the presentation of trophies and cash incentives to the winners immediately after the conclusion of the tournament.
According to Wiltshire some of the teams expected to be on show tomorrow are Mix Up, Gangstas, Specialist, Blood Sport, Snake, Strikers, C-seven, Wild Bunch, T& T and Turning Point.
Around the Web