The Guyana Chess Federa-tion (GCF) will today stage a seven rounds, Swiss system junior and senior chess tournament in Berbice.
The tournament will take place at the University of Guyana, Tain Campus, Corentyne from 9.30am.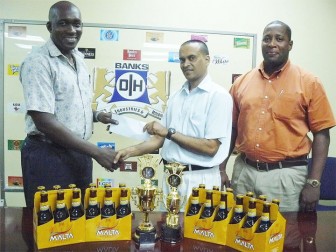 The tournament is being sponsored by Banks DIH Limited under its newly introduced Malta Supreme brand.
Registration begins at 9:30hrs at the venue and all male and female chess players from Berbice are invited to participate.
Registration fee is $500 each for seniors and $300 each for juniors.
Banks DIH Brand Manager for non-alcoholic malts Clayton Mc Kenzie on Friday presented the sponsorship cheque to GCF President, Shiv Nandalall at the company's Thirst Park complex.
Nandalall expressed gratitude to the company for supporting chess as the GCF continues to spread the sport by way of competition and the distribution of chess material.
Trophies and chess sets would be awarded to the first place senior and junior players while an additional 10 more sets would be distributed to other prizewinners.
Each round of the tournament is expected to last a maximum 40 minutes with each player getting 20 minutes on their clock.
The GCF, the release stated, will be providing chess clocks for the tournament and players with tournament size chess sets can bring those along.
Interested chess players in Berbice can contact Steven Leung on 644-9721 for further information.
Around the Web