From Marlon Munroe at Blairmont
Guyana topped Group A and booked a semi-final place in the Regional Super50 tournament after defeating Barbados by 48 runs at the Blairmont Estate Community Development ground yesterday.
Leon Johnson led the way with an impressive 62 before Man-of-the-Match Christopher Barnwell, who scored 37, returned to take 4-43 from his eight overs. Other significant contributors to the win were Steven Jacobs, who made 38 and took 1-13, and Paul Wintz who finished with 2-46 from nine overs as the team defended its 226-9.
Barbados fell for 178 from 45 overs with Patrick Browne, captain Kenroy Williams and Carlos Brathwaite making contributions of 66, 30 and 25 runs respectively.
Browne, batting at number seven, and Brathwaite put together Barbados' biggest partnership to ensure a less dismal scorecard when they posted 59 runs for the eighth wicket.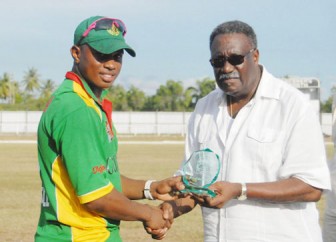 Earlier, when Guyana were sent in to bat, Johnson's innings exuded a maturity that has rarely been seen for some time now by the stylish left-hander. Whether this is an indication of a return to the sort of form that first earned him his call to the West Indies senior team in 2008 is yet too early to determine, given the fact that these innings have come few and far in between.
His circumspect approach to batting after strolling to the crease early due to Trevon Griffith (6) throwing his wicket away once again was what set the platform for the rest of the team to build around. The left hander pierced the field with consistency, almost as if he were manufacturing gaps.
Johnson and captain Assad Fudadin also ran well between the wicket and they looked set for a big partnership until Fudadin swept at a  delivery and was taken at short fine leg by Rashidi Boucher for 13. That alliance yielded 39 runs.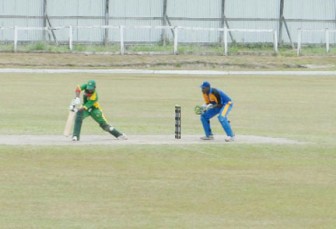 After this dismissal, Johnson duly brought his half century, which at that time included four fours from 93 balls, with a push in the offside. Johnson then set the record straight when he authoritatively pulled pacer Tino Best for six over square leg, a vindicated shot for all the stare downs he had received earlier in the innings from the former West Indies speedster.
Barnwell joined his partner and drove Best through cover late in the 33rd over. Johnson, in the next over, lifted former Barbadian captain Ryan Hinds over mid off for four but two balls later was dismissed the same way as his captain, sweeping and getting caught at short fine leg.
His innings spanned 102 balls and was highlighted by five fours and a six. Barnwell brought up the team's 150 with a slog sweep to backward square then followed up with a six to wide long on, off off-spinner Williams before he was caught at long on by Javon Searles attempting another slog sweep off the bowling of Hinds.
Jacobs came to the crease and had a rough time getting the ball away initially. However, after battling the spin duo of Hinds and Sulieman Benn he swept Benn for six over square leg. The next delivery he was dropped on the extra cover boundary before the ball ambled into the boundary.
Jonathan Foo also got into the act when he dispatched Hinds for six over long on before Jacobs slapped Searles for four through third-man. Jacobs lost his wicket when he holed out to Jonathan Carter on the long off boundary off Searles.
Searles struck twice after wicketkeeper/batsman Derwin Christian had taken 10 runs off Smith. He dismissed Christian, caught at cover off a slow ball, then had Foo caught behind by Patrick Browne.
Steven Latcha and Wintz took the team to the end of the 50 overs with little trouble.
When Barbados started their reply Jacobs accounted for the first wicket when he had Dale Richards trapped lbw for six before fast medium pacer Wintz and Barnwell picked up two wickets each to leave the Barbadians languishing on 47-5 in the 14th over. Fudadin made the first dent into the Barbados tail when he had Williams caught behind for 30, breaking a 30-run partnership the largest of the innings at that time.
His other bowlers also made breakthroughs at critical junctures to restrict the Bajans, who never recovered from the early loss of wickets.
Scorecard
Guyana Innings
T. Griffith c Williams b Best                                 6
A. Fudadin c Boucher b Williams                    13
L. Johnson c Richards b Hinds                        62
T. Dowlin c&b Benn                                                 9
R. Crandon b Benn                                                13
C. Barnwell c Searles b Hinds                            37
S. Jacobs c Carter b Searles                               38
J. Foo c wkpr Browne b Searles                        16
D. Christian c Williams b Searles                      11
P. Wintz not out                                                        1
S. Latcha not out                                                    11
Extras (w6, lb2, nb1)                                             9
Total (for 9 wickets off 50 overs)                 226
Fall of wickets: 1-7, 2-46, 3-67, 4-93, 5-127, 6-160, 7-199, 8-214, 9-214
Bowling: Best 4-0-38-1 (w3), Searles 5-0-24-3 (nb1), Williams 10-1-41-1, Smith 6-0-39-0 (w1), Benn 12-4-31-2, Hinds 12-0-51-2 (w1)
Barbados Innings
D. Richards lbw Jacobs                                               6
R. Boucher c Johnson b Barnwell                          13
R. Hinds c Jacobs b Wintz                                          7
J. Carter lbw Wintz                                                        0
K. Williams c wkpr Christian b Fudadin             30
D. Smith b Barnwell                                                      3
P. Browne c Latcha b Crandon                              66
J. Searles c wkpr Christian b Crandon                 8
C. Brathwaite c Crandon b Barnwell                   25
S. Benn c Wintz b Barnwell                                       1
T. Best not out                                                              7
Extras (w10, b1, lb1)                                                12
Total (all out off 45 overs)                                178
Fall of wickets: 1-08, 2-18, 3-18, 4-43, 5-47, 6-77, 7-92, 8-151, 9-166, 10-
Bowling: Jacobs 6-1-13-1, Wintz 9-0-46-2 (w3), Barnwell 8-1-43-4 (w6), Latcha 5-0-20-0, Fudadin 6-0-17-1 (w1), Crandon 10-0-34-2, Johnson 2-0-3-0
Around the Web