By Emmerson Campbell
The Oxford dictionary defines the word explosion as a violent release of confined energy, usually accompanied by a loud sound and shock waves.
The Guyana Boxing Board of Control (GBBC) fight card this week-end is promising a series of such explosions.
The six-fight card is appropriately dubbed `Thirst Park Explosion' as much as for the promised activity as it is for the venue where those explosions will take place.
Boxing fans expected to turn out in their numbers on Saturday should expect a series of explosive jabs, right crosses, hooks and upper cuts.
The card which is dubbed 'Thirst Park Explosion 'will definitely send shock waves to those in attendance if the boxers live up their promises.
Stabroek Sport caught up with Edmond DeClou the co-headliner of the card who will be battling Howard `Battersea Bomber; Eastman for Guyana's Middleweight title.
DeClou, Troy Lewis, Jermaine' Star boy' King and Mark Austin have all promised violent eruptions in their respective bouts.
The 24-year-old DeClou has a 10–fight professional career with seven wins, two losses and a draw.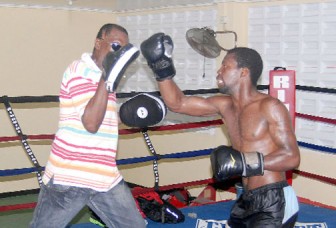 He has been red-hot for the year winning all of his five bouts.
However, coming up against the much more battle-tested and savvy 40-year-old Eastman who has a record of 54 fights, 46 wins and eight losses with 36 of those wins coming by way of knockout will be the toughest test of DeClou's fledgling career.
DeClou, who resides in the mining town of Linden, is currently preparing for his 12-round contest at the Andrew 'Six head' Lewis gym under the watchful eyes of Lennox Daniels.
"I am training mornings and afternoons, mornings in  the National Park, afternoons at the gym sparring, ….doing pad work, running and sprinting in the morning, I've been sparring with a Guyana's first world champion (Lewis) so I'm being well prepared," declared De Clou.
"The fresh training that coach man (Daniels) has been doing with me has really improved me as a boxer so all the Edmond DeClou fans you will see something special from me next week Saturday more sparkle," he promised.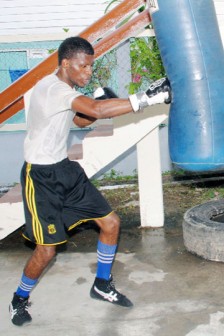 When asked if he was scared of Eastman, the Lindener remarked: "I'm not worried about Eastman I'm not scared of no fighter that I enter the ring with I'm always one hundred percent confident when I'm fighting any opponent."
Asked what the fight meant to him, DeClou remarked:
"This fight means the world to me. Winning this fight will definitely raise me as a boxer and my self esteem I was never a good amateur boxer but ever since I turned pro I've improved leaps and bounds. I've gotten a lot of encouragement and that gave me a boost, come next week Guyana will have a new middleweight champion."
King will be facing Austin in a return six round welterweight affair. King, who lost to Austin in January of this year, has a record of three losses and one draw while Austin's record reads five wins, two losses and a draw.
King said that he has been training since he drew his last fight with Barbadian Miguel Antoine at the Pro Am card on September 23.
Austin and King have both fought Antoine the undefeated former CABOFE junior welterweight champion and current Commonwealth Zonal junior welterweight champion.
However King will have the psychological advantage as he had to settle for a controversial draw while Austin dropped a unanimous decision to the Barbadian.
King in a brave predictions  said "I'm the judge of my fight this trip I know I deserved to win the last fight (with Austin) I wasn't doing much (training) but still won, the fight would not  last this time I going for the kill (knockout) I will make Thirst Park feel like summer, summer time in October".
Austin who has not fought since his last defeat in June at the hands of Revlon Lake said he is training hard for his clash with King and is ready to go.
"I was gone for a while but now I'm back I've been training morning and afternoon, I've been doing my road work, pad work working on the speed ball, I've been sparring morning and afternoon, I'm fit and ready to step in the ring on the 29th."
Austin said he lost to Antoine because he wasn't ready and was unfit but he is back to fitness and needs a rematch.
"After I beat King I want a rematch with Antoine I'm a far more skillful fighter than King and I have beaten him already and I will beat him again so we will put our skills to the test"
Austin spoke on his strategy he will employ to defeat King again.
" He  is an outside fighter , he has a longer reach than me, I'm a short man and I will do what a short fighter  supposed to do , keep on the inside so I'm going to take him down from the inside work him on the inside and break him down from top to bottom ".
The 22 year old Austin also predicted that the bout would not go the distance.
"I don't expect the fight to go the distance in all the interviews he is saying he is going to knock me out and the man who say they going to knock out somebody is always get knock out so I'm going out there the 29th and do what I have to do its Mark Austin the people's choice I'm back out"!
Lewis and Iwan 'Pure Gold' Azore will also be matching gloves for the second time. The two boxers have a genuine hatred for each other after they were both sanctioned for a post fight brawl. Azore and Lewis fought to a draw in their previous affair in May last year. The eight round catch weight bout will definitely be full of fireworks.
Lewis mentioned that he has been training for three weeks for his encounter and promises a KO.
"I'm not going to just beat him, I'm going to knock him out, this is personal, the referee and judges have to rest they won't be needed ok! No work for the judges, this is personal I'm going for the knockout, he is going to get knock out no doubt about it, the heat is on and when the heat is on you got to get ready to die I will knock him out he disrespected me the last time by head butting me just because I didn't hug him who is he a bird? (woman) I will knock him out this time."
Azore has a record of 13 wins, four losses and three draws with three of his wins by knockout while Lewis's record reads four wins, 12 losses and one draw with half of his victories via the KO route.
Also on the card will be Mr. Chin Checker, Simeon 'Candy Man' Hardy. The undefeated knockout specialist will come up against St. Vincent-born, Barbadian-based Julian 'Thunder' Tanniss in a six-round light middleweight fight. Clive 'Wonder Kid' Atwell and Orlon 'Pocket Rocket' Rogers will be engaged in a six round catch weight bout, while Gwendolyn 'Stealth Bomber' O'Neil will defend her Women International Boxing Association (WIBA) heavyweight title against Pauline London in a 10- round contest.
As a special attraction two lucky ticket holders will win a trip to the Twin Island Republic, Trinidad and Tobago.
The weigh-in for the 'Thirst Park Explosion' card will be held on Friday at Thirst Park at 19:00 hrs.
Sponsors of the event include Digicel, Giftland Office Max, Courts, Banks DIH Limited, NCN and Ansa McCal.
Admission for inner ringside is $2500 while regular seats cost $1500. Bell time is 20:00 hrs.
Around the Web