From Treiston Joseph in Suriname
Guyana finished on top of the points table when the final day of the 2011 Track and Field Championships of the Inter Guiana Games concluded yesterday at the Andre Kampervene Stadium in Suriname.
Guyana accumulated 351 points to claim the overall championship while Suriname followed with 307 points leaving French Guiana trailing in third place with 113 points.
National junior distance king Nathaniel Giddings who had copped bronze in the 1500 metres on day one, put on a show with tactical running in the boys' 5000 metres to claim gold in a time of 16:52.76s.
His teammate, Chaves Sital, finished a distant fourth.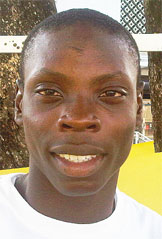 Stephan James claimed a sprint double as he blasted to victory in the men's 200 metres clocking 22.64s to win the event after capturing the 400 metres on day one. His teammate, Chavez Ageday,  placed second in the 200m in 22.82s adding silver to the gold he won in the 100 metres on day one.
The men's 800 metres was an exciting event as Guyana's Ernesto Thomas came from behind and just failed to beat Surinamese Anton Bosoe who finished in 2:03.76s. Thomas clocked 2:04.04s for second place.
CARIFTA Games representative Melissa Byass turned the heat on two-time CARIFTA Games gold medalist Jevina Straker to win the female 800 metres in 2:22.41s. Straker finished second with a time of 2:23.74s.
Commonwealth Youth Games 100 and 200 metres semifinalist Letitia Myles fell to Suriname's Danielle Clarke for her second silver medal of the games in the 200m. Clarke clocked 25.51s for the gold as Myles finished in 26.58s. Guyana's Tiffany Carto was third in 26.96s.
Jaunita Hooper jumped away with the females' long jump with a huge leap of 5.51 metres while gold medalist in the triple jump Alita Moore finished second with 5.13 metres.
The girls' 3000 metres saw Andrea Foster of Guyana cap turing gold ahead of her teammate Alexis Williams. Foster, the daughter of national sprint queen Alisha Fortune, clocked 12:14.32s while Williams clocked 12:25.16s.
Lisa Bowman claimed a field double by capturing the female shot put with a distance of 9.85 metres after winning the javelin event on day one.
Troy Lewis won a silver in the men's shot put with a throw of 12.55 metres after winning the javelin  event on day one.
Tevin Garraway jumped to silver behind Surinamese Quinte Pinas who leapt 6.77 metres while Garraway jumped 6.76 metres for the silver medal.
Shameka Caesar placed third in the women's discuss with a throw of 20.80 metres while Clarence Greene place third on the male side with a throw of 32.74 metres.
Meanwhile the Athletic team will depart for Guyana today with their championship trophy in hand.
Around the Web