The Combined Campuses and Colleges team (CCC) was yesterday eliminated from the Regional Super50 tournament despite defeating the Leeward Islands via the Duckworth-Lewis route at the Guyana National Stadium.
CCC were initially set 175 to win by the co-defending champions but after 118 minutes were lost to rain soon after their chase commenced the score was revised to 148 from 34 overs. The college boys knocked off the total with five balls to spare to end with 150-6 from 33.1 overs.
Former captain of the side Floyd Reifer played a composed knock of 52 not out that included one six and four fours.
He shared in a 66-run partnership with Kyle Mayers who stroked 31.
Leg spinner Anthony Martin snared 3-26 from his eight overs; Justin Athanaze and Lionel Baker picked up a wicket apiece.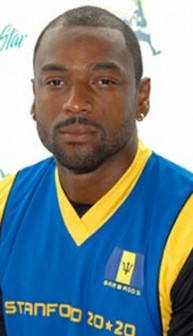 When the Leewards batted they reached triple figures for the first time in the tournament. Jahmar Hamilton and Jaison Peters were the principal scorers with 45 and 40 runs respectively. For the first time in the tournament the side did not fold after losing early wickets.
Instead, the two compiled a 75-run, fifth wicket partnership that negated their previous two one-sided affairs.
Spinner Kavesh Kantasingh appeared as if he would have wrapped up the side by taking the first two wickets with his menacing variations.
He eventually finished with 6-26 from 12 overs and received support from Ryan Austin who ended with 2-36 from 10.2 overs.    
         
When the CCC returned after the rain break they lost two quick wickets: Nikolai Parris was caught behind and Ryan Wiggins run out by a length of the pitch.
Apart from that, the college boys seemed in disarray as both Reifer and Mayers almost lost their wicket shortly after with some poor calling.
However, when they got resettled they worked the ball around comfortably with Mayers freeing his shoulders for sixes over midwicket and long on. Reifer followed suit with one over square leg but shortly after he lost Mayers when he was caught at midwicket attempting a slog sweep. 
Reifer continued with ease before crowning his team's win with a straight six off Athanaze.
CCC were eliminated, despite winning two games and upsetting Trinidad & Tobago in their first game, because of their run rate. Jamaica, who finished the preliminary round at the top of Group B, and T&T, who beat Jamaica yesterday, also had two wins.
The four semi-finalists are Guyana, who are unbeaten, Jamaica, T&T and Sagicor High Performance Centre. Guyana will play T&T  tomorrow in what will be a repeat of the 2009 final that T&T won and Jamaica will play Sagicor HPC on Thursday.

Scoreboard
Leeward Islands Innings
J. Liburd c Dewar b Kantasingh                                  25
A. Richards c Parris b Austin                                       17
C. Hughes c Reifer b Kantasingh                                 01
J. Peters c Bascombe b Kantasingh                           40
S. Liburd c wkpr J. Smith b Dewar                             01
J. Hamilton lbw Mayers                                                 45
M. Richards b Kantasingh                                             18
J. Athanaze c Moore b Kantasingh                            11
L. Baker c Mayers b Kantasingh                                 05
A. Martin not out                                                             00
J. Campbell b Austin                                                      00
Extras (w8, lb2, nb1)                                                      11
Total (all out off 49.2 overs)                                     174
Fall of wickets: 1-39, 2-43, 3-46, 4-50, 5-126, 6-156, 7-156, 8-169, 9-173, 10-174
Bowling: Moore 4-0-25-0 (w2), Kantasingh 12-2-26-6 (w1), Austin 10.2-0-36-2 (nb1), Dewar 7-0-27-1 (w2), Parris 8-0-28-0, Mayers 8-0-30-1 (w3)
CCC Innings
R. Currency stp wkpr Peters b Martin                    11
M. Bascombe lbw Baker                                               12
N. Parris c wkpr Peters b Athanaze                         16
F. Reifer not out                                                              52
R. Wiggins run out                                                         06
K. Mayers c b Martin                                                    31
J. Smith lbw Martin                                                       05
A. Dewar not out                                                            05
Extras (w7, lb4, b1)                                                    12
Total (for 6 wickets off 33.1 overs)                    150
Fall of wickets: 1-23, 2-23, 3-46, 4-56, 5-122, 6-133
Bowling:  Baker 7-0-35-1, Martin 8-0-26-3 (w1), Athanaze 6.1-0-35-1 (w2), Campbell 6-0-21-0, Hughes 3-0-14-0 (w4), M. Richards 3-0-14-0
Around the Web