Trinidad-based Guyanese Papo Haniff ended Avinash Persaud's two-year reign while Christine Sukhram continued her dominance at the R1 Vodka Guyana Open two-day golf championships which ended Sunday evening at the Lusignan Golf Club.
Haniff playing off a 0 handicap capitalized on his first day advantage to end the tournament with an overall gross of 148 competing in the 0-9 handicap flight.
Nicknamed `Mr. Golf', Haniff rolled back the years to take several of the prizes which included first day lowest gross of 71, best net on day one and the championship prize.
Haniff, who once ruled the roost in local competition in the 1980's, said he was encouraged to play the tournament following his return to Guyana for his mother's funeral.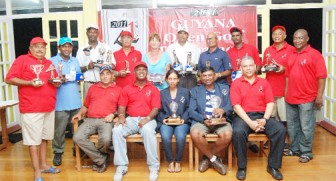 "I was reluctant at first but then I decided to  participate and I am very happy. The tournament was very good and I must commend the ground staff for the excellent job they did," said Haniff.
Three-time champion Persaud failed to finish in the top five. Second place went to Mohanlall "Santo" Dinnanath with a gross of 153.
Sookram Deosarran placed third, as three players finished on gross 156. Vijay Deo was fourth while teenager Avinda Kishore ended in fifth place.
Vijay Deo also won the men's best net of 138 in all flights and best net of 67 on day two.
Fazil Haniff won the best gross of 80  and  the best net of 69 in the 10-18 flight while Clifford Reis, Banks DIH Chairman was in top form in the 19-28 handicap flight winning the day two lowest gross of 88 and best net of 66. In the ladies competition, Sukhram completely annihilated her opponents in retaining her title for the third successive year.
She carded a 164 gross beating into second position Petra Beems of Suriname who ended on 185. Guyanese Joaan Deo was third with 196.
The tournament attracted golfers the United States, Canada, Suriname, Trinidad and Tobago and French Guiana.
President of the Lusignan Golf Club, Brian Hackett thanked Banks DIH for sponsoring the tournament for another year.
He said the Guyana Open is getting bigger and better and he looks forward to an even bigger tournament in 2012.
Banks DIH Sales and Marketing Executive Carlton Joao said he was pleased with the turnout of players. He congratulated the outstanding players for their excellent showing in the two-day event. Papo Haniff and Sukhram were also presented with the tournament jackets by Joao.
Around the Web