Another high-class spell of off-spin bowling from 23-year old mystery off-spinner Sunil Narine propelled ten-time Regional limited overs champions Trinidad and Tobago into the 2011 Regional Super50 semi-finals with a 37-run victory over Jamaica, under the Duckworth/Lewis method at Everest Cricket Club yesterday.
Narine playing only his third list A game, in his first season of regional limited overs cricket, continued his meteoric rise in the last few months after impressing on the world stage during the 2011 Nokia Champions League in October.
His man of the match effort of 5 for 37, securing consecutive five-wicket hauls in the process, aided his side in restricting Jamaica to 154/9 in 40 overs under the D/L method, in reply  to Trinidad's modest 196/8.
The result means that Jamaica tops Group A with 14 points and will play Sagicor High Performance Center (HPC) in the second semi-final on Thursday, while Trinidad, who finished second on 12 points will lock horns with hosts Guyana in the first semi-final tomorrow.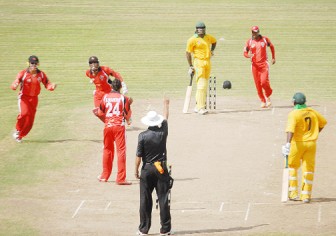 Both games will be played at the Providence Stadium under lights from 1:30 pm each day and will be broadcast live on ESPN to audiences around the world.
Yesterday's clash commenced 45 minutes late after a slight seepage of overnight rain onto the playing surface. Jamaican skipper Chris Gayle won a crucial toss and elected to field first, in what has become the usual windy and damp morning conditions at the Camp Road venue during the competition.
Jamaica remained unchanged from the side which defeated the Combined Campuses and Colleges (CCC) on Sunday, while Trinidad recalled left-arm wrist spinner Dave Mohammed in place of West Indies Under-19 wicket-keeper Steven Katwaroo and medium pacer Rayad Emrit in place of the big-hitting Keiron Pollard, who has been ruled out of the competition due to a shoulder injury, sustained while batting during Trinidad's last victory.
Openers William Perkins and Justin Guillen took the score steadily to 28 in the seventh over before both batsmen departed in the space of seven deliveries without further addition to the score.
Firstly, left-arm spinner Nikita Miller struck with his second delivery, dismissing Perkins for 14, playing around a straight delivery. Then secondly, in the next over, Guillen failed to clear in the infield and was caught by Xavier Marshall at cover off Andre Russell, as the Red Force slipped to 28/2 in over number nine.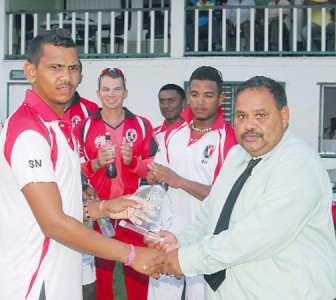 Chris Gayle's side for a period began to suffocate the scoring rate with Trinidad crawling to 49/2 in the 20th over and skipper Ganga and Dwayne Bravo struggling to manoeuvre some disciplined bowling.
This consistent pressure brought results as Ganga 30 (72 balls, 3×4) and his brother Sherwin (2) perished to leg-spinner Odean Brown and innocuous military medium bowler Shawn Findlay with the total on 93/4 in the 31st over.
Bravo, who had retired hurt with cramps earlier, returned to join Jason Mohammed and the duo combined for a crucial 61-run, fifth-wicket partnership, propelling the boys from the twin island republic past the 150 mark in the 41st over.
Disappointingly, though, both Bravo 55 (87 balls, 7×4, 1×6) and Mohammed 43 (54 balls, 4×4, 1×6) were sent packing, just when a significant assault was needed in the final overs.
It was left to the remaining late order batsmen to stutter along to a below-par total of 196/8 in the 50th over after Emirt squirted the final delivery of the innings  from Russell down to the third-man boundary for four.
The vocal crowd that packed the pint-sized stands at Everest  was now eagerly anticipating another "Gayle Force" assault by the Jamaican captain on the potentially inadequate target.
However, some astute aggressive captaincy from Ganga and an inspired spell from the ever impressive Narine whose figures stood at 7-2-17-5, aided in reducing Jamaica to 55/5 in the 14th over before the rain interval.
Kennard Lewis was the first of Narine's victims, caught by Guillen at short leg pushing forward tentatively to a sharp spinning off-break, then  Marshall ran past a delivery that turned sharply and was out for duck, as the boys from the "Land of Wood and Water" slumped to 11/2 in the fifth over.
Gayle who started sedately – counterattacked, launching a trio of sixes in consecutive overs off Badree and Narine to state his intentions, while inflaming the crowd in the process. Two blows came in one Badree over, with the ball almost reaching the seawall at the Atlantic Ocean end.
Narine, who took 6/38 in Trinidad's previous encounter versus the Leeward Islands, then clinched the big fish, having Gayle 31 (32 balls, 2×4, 3×6) caught by wicket-keeper Perkins to a delivery that turned and bounced sharply.
Findlay and Walton soon followed leg-before and caught and bowled to the guile of Narine, propelling Trinidad onto the front foot in a must-win match.
Rain came at 2:34, delaying play until 3:30;
Upon resumption, under the Duckworth/ Lewis method Jamaica were given the stiff task of scoring 191 in 40 overs.
Left-arm wrist spinner Mohammed broke the Narine wickets sequence, having West Indies limited overs batsman Danza Hyatt (who batted down the order after injuring himself while fielding), caught by Emrit at long-on for secen as Jamaica plunged further into despair at 71/6 in the 20th over.
Russell played a brief cameo of 31 (27 balls, 7×4), but after he was run out due to lack of communication with partner Tamar Lambert, with the score on 108, the Jamaicans resigned themselves to defeat, with Lambert unbeaten at the end on 48 (95 balls, 3×4).
Scoreboard
Trinidad & Tobago (maximum 50 overs)
W. Perkins lbw b Miller                                         14
J. Guillen c Marshall b Russell                           13
*D. Ganga c (sub) Blackwood b Brown           30
D.J. Bravo c *Gayle b Miller                               55
J. Mohammed c (sub) Elliott b Russell          43
S. Ganga lbw b Findlay                                            2
K. Cooper c wkpr Walton b Miller                      7
R. Emrit not out                                                      17
S. Badree c Miller b Santokie                               6
S. Narine not out                                                      3
Extras (w6)                                                                6
Total (8 wkts, 50 overs)                                 196
D. Mohammed did not bat
Fall of wickets: 1-28, 2-28, 3-79, 4-93, 5-154, 6-162, 7-178, 8-187
Bowling: Russell 10-2-39-2 (w1); Santokie 12-2-57-1 (w1); Miller 12-2-32-3 (w1); Findlay 9-0-38-1 (w2); Brown 7-0-30-1 (w1)
Jamaica (target: 191 off 40 overs)
*C. Gayle c wkpr Perkins b Narine                31
K. Lewis c Guillen b Narine                                6
X. Marshall st Perkins b Narine                       0
T. Lambert not out                                             48
S. Findlay c and b Narine                                   2
+C. Walton lbw b Narine                                    0
D. Hyatt c Emrit b D. Mohammed                  7
A. Russell run out                                               31
N. Miller lbw b Badree                                         2
K. Santokie lbw b D. Mohammed                    2
O. Brown not out                                                   9
Extras (lb2, w14)                                              16
Total (9 wkts, 40 overs)                              154
Fall of wickets: 1-9, 2-11, 3-41, 4-46, 5-46, 6-71, 7-108, 8-118, 9-134
Bowling: Narine 10-2-37-5 (w1); Badree 7-0-33-1 (w3); S. Ganga 10-3-17-0 (w2); D. Mohammed 6-0-34-2; K. Cooper 2-0-22-0 (w8); R. Emrit 4-0-6-0; J. Mohammed 1-0-3-0
Result: T&T won by 37 runs (D/L Method)
Points: T&T 4, Jamaica 0
Series: Jamaica and T&T advance to semi-finals
Man-of-the-Match: S. Narine (T&T)
Umpires: L. Abraham, G. Greaves
Match referee: C. Stuart
Around the Web