Currently ignored senior West Indies fast-bowler Jerome Taylor, suggested he has an 80 % chance of appearing in Jamaica's semi-final encounter versus Sagicor High Performance Center (HPC) tomorrow, at the Guyana National Stadium, Providence Taylor, as most cricket fans may be aware,  has not donned the West Indies colours since June 2010.
The reasons for his non selection coming out of the West Indies Cricket Board selectors in recent months have been very opaque.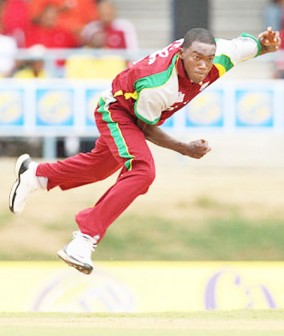 Despite his injury record, he has been participating in cricket throughout 2011 namely; his country's Regional four-day triumph in January, Indian Premier League with Pune Warriors and the Jamzone Masters Cup here in Guyana.
So far in the ongoing Regional Super50 competition, the talented Jamaica has been noticeably absent from his side's opening three  group matches as they qualified for semi-final round without his bowling expertise.
Stabroek Sport caught up with 27-year-old during his team's net session at the Demerara Cricket Club yesterday and discussed why he has been missing in action for Jamaica so far in the competition amongst other things.
When asked what the reasons are for him missing group games in the competition, Taylor said "I picked up a slight side strain, but it's nothing too extensive. However, knowing my history with injuries although I could have played, the captain and management decided to take the necessary precaution to manage the problem, instead of forcing myself to play and thus aggravating the problem, which in turn could have kept me out of cricket for a while."
He added:"But from the sidelines it's pleasing to see that the team can reach the semi-finals without me. Young Krishmar Santokie has led the attack well. We have one more practice session before the semi-final, at this stage I would say I have an 80/20% chance of playing in the semi-final and I hope to do enough so that the management can pick me," Taylor further articulated.
With the amount of injuries he has had in recent times, some regional fans have speculated that his natural pace which helped catapult him to prominence, could be cut short.
Taylor was identified as among the most promising fast-bowling prospects for West Indies, when he made his debut at age 19 in 2003.
But Taylor, who has played 29 tests, 66 one-day internationals and 17 Twenty20 matches for the regional side, gave the assurance that he does not think this is the case. "To be honest I don't think the injuries have caused me to lose much pace in my bowling. "I still think my normal range of 85-89 mph is still very much there once I'm 100% fit.
"Bowling on a given day, even though given some of my back injuries in the past has caused me to remodel my action slightly," said Taylor.
When asked if he potentially plays in the semi-finals, if any worries about having to make his comeback on a traditionally flat Providence wicket, Taylor highlighted that as modern day fast-bowler – adaptation is name of the game.
"I'm not too worried about that, based on my experience of playing in Guyana along with places like India where such flat pitches are normal, as a bowler in international cricket, you have to be able to adapt, you can complain too much pitch conditions. I just the weather is good, so that the boys can go out and showcase their skills." One would certainly hope the weather is great along with a return from Taylor, where, hopefully, he can put on a performance to remind the West Indies selectors Courtney Browne and Robert Haynes who are in Guyana, about the quality he can still bring to fast-bowling ranks of the West Indies team.
Around the Web