There is expected to be a mixture of local and foreign players for the second Citizens Bank Players golf championship billed for today (Diwali) at the Lusignan Golf Club.
Last year's winner Mohanlall "Santo" Dinnanauth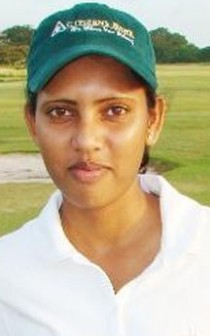 will be looking to secure a second lien on the Players Cup but will face stiff opposition from some of the inform players.
Reigning Guyana Open ladies champion Christine Sukhram will also be defending the title on the distaff side will be challenge by Joann Deo.
The tournament will tee off at 09:00 hours but there will be the usual players briefing 15 minutes earlier.
United States players Andrew Claxton will be among the players expected to compete as well as Citizens Bank Chairman Clifford Reis who was in top form on day two of the Guyana Open.
The field will also include William Walker, Patrick Prashad, Vijay Deo, Avinash Persaud, Avinda Kishore, Maurice Solomon, Colin Ming, Robert Hanoman, Ian Gouveia, Esau Shamshudin, Bhowlaram Deo, Brian Hackett, Mike Mangal, Mike Gayadin, Troy Cadogan, Mark Lashley, John Tracey, Dr. John Ram Singh, Gavin Todd, Jerome Khan, Fazil Haniff, Muntaz Haniff and Chatterpaul Deo.
Prizes will be awarded to the top three players with the lowest net score.
There will also be prizes for the top female player as well as the player with the lowest gross.
Citizens Bank Managing Director Eton Chester and other senior managers of the bank will be on hand to assist in the distribution of prizes.
Around the Web