Guyana and Trinidad and Tobago captains Assad Fudadin and Darren Ganga yesterday exuded confidence ahead of today's first day/night semi-final match of the Super50 tournament scheduled for the Guyana National Stadium, Providence.
Speaking at a media briefing at the Princess Hotel yesterday morning Fudadin said that while his top order batsmen have been dismissed cheaply for the two games they have played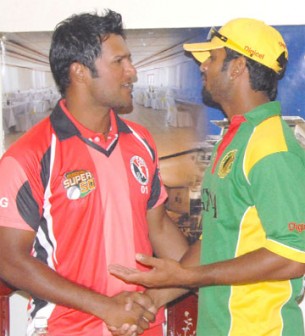 in the preliminary round, it is not a cause for concern. He said that his team's batting has depth and the side will perform well today.
He pointed out that the team, which has not won a tournament since 2005, has had good preparation for the tournament and they will be looking to build on their good record against the Trinidadians.
Ganga indicated that his side had considered during team meetings Guyana's suspect top order but at no point will his team underestimate the Guyanese. He said that it is still a good side and that cricket is played on the field so it will be important for his team to remain focussed.
Ganga said that while his side started the tournament with a loss to the Combined Campuses and Colleges side, they have bounced back and will be looking to play quality cricket today. Both captains said that it is a privilege to be in the semi-final and are eagerly anticipating the matchup.
On the other hand, T&T have some injury worries with an arm injury affecting Kieron Pollard, forcing him to return home after the match against Leeward Islands on Saturday. Dwayne Bravo sustained a leg injury during the last preliminary game against the Jamaicans.
Meanwhile, Jamaica skipper Chris Gayle said that his side will not be underestimating the Sagicor High Performance Centre, who have only been competing in the tournament for two years. Brooks on the other said that his side has nothing to lose and everything to win from being in the semi-final.
Their match will be played tomorrow at the same venue.
Both matches start at 13:30 and patrons will be asked to pay $1,000 to enter the venue. The matches will be broadcast live by ESPN.
Around the Web