By Iva Wharton
Nine-time Guyana Golf Open champion Nazeem 'Papo' Haniff says though play has improved on the local golf scene there is need for a coach to hone the talent of budding players.
Haniff, a native of Lusignan, who now resides in Trinidad and Tobago, noted that the game has been transformed since he started playing in the 1970s. He told Stabroek Sport that both the course and players have improved over time and he has noted several young, talented players who can reach the top of the game if they are tutored by an international coach.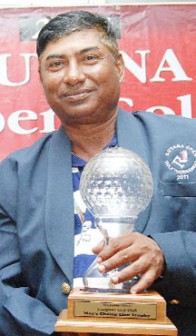 According to Haniff, many of the young players  learnt the sport by watching the older ones and benefit from a little coaching from them.
"To develop your swing, speed, stance and other things…I don't think they have that knowledge to just show you that."
Though he left Guyana to work in Suriname as a coach, Haniff said clubs should hire a coach or send a person to be trained. He also admitted that the game is costly and opined that both government and the private sector can partner to finance the game.
Drawing a comparison between Guyana and Trinidad, the champion player said that country boasts the necessary human resources and equipment to ensure that golfers from all age ranges have access to training. He noted too that in Trinidad both government and the private sector provide funds and although the government does not invest in golf as heavily as it does other sporting disciplines many major corporations support the game.
"In Trinidad right now you have hundreds of junior golfers who compete in tournaments sponsored by the private sector. These little children – some as young as four years old – are playing," he said, adding that many professional golfers have been known to visit schools to encourage students to take up the sport which sponsors such programmes.
Haniff believes that Guyana has a lot of raw talent that can be developed, singling out Avinash Persaud as a player with great potential. "He won a few tournaments there and  a few persons are still asking for Avinash, as he has made a name for himself in Trinidad," he added.
Haniff said Persaud has played commendably in that country, mastering the hilly courses that have proven difficult for other players and winning the respect of the Trinidadian golfers.
However, he opined that Persaud still has a lot more work to do if he wants to compete at the highest level of the sport.
Haniff, who has been living in Trinidad for the last 15 years, said that he no longer plays golf professionally, just for fun. "Is not like competing as before, I play golf now once per week," he said, adding that he stopped playing professionally when he moved to Trinidad. He said himself and another golfer are representing Trinidad at the Guyana Open; noting that participating in the game has allowed him to catch up with old friends and enjoy the sport. He also noted that the Trinidad contingent will be much larger at next year's Guyana open.
Around the Web