The Under-20 Lady Jaguars and Antigua face off today at the Uitvlugt ground in the first qualifying match of Group C for next year's Under-20 World Cup.
However, they are entering today's match without much practice time as a unit, but fill-in captain Ashlee Savona, 17, believes they will do great although they are not too familiar with their opponents.
While acknowledging this, she urged her teammates to give of their best and play their hardest, adding that if they do they will emerge victors in the clash.
Savona, filling in for Justine Rodrigues, also sees today's task of leading the team as a challenge, one she said that she is sure to overcome.
In addition, the team is without Carina Moore, who started in Cancun, Mexico last year for the CONCACAF Gold Cup, twins  Darcy and Kelly Pelz-Butler and striker A.J. Blount, who recently underwent surgery for a torn anterior cruciate ligament (ACL).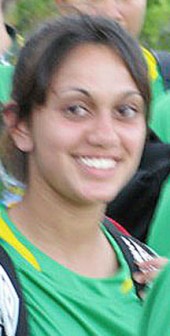 "I don't know much about our opponents but I know we will be going out to give our all and if we do we will come out successfully. I will be leading by example and when you show the girls the level they have to play at you will get the best because we play for each other," she emphasized, speaking at the team hotel at King's Plaza, Main Street.
The game is scheduled as the feature match from 15:30 hours while the curtain raiser will be played between the Dominican Republic and Anguilla from 13:30 hours. Guyana will next face Anguilla on Friday in the feature match from 15:30 hours and then the Dominican Republic on Sunday from 15:30 hours.
In the other two games the Dominican Republic will play  Antigua on Friday at 13:30 hours and Anguilla will take on Antigua on Sunday at the same time. All matches will be played at Uitvlugt.
Biggest challenge
When Stabroek Sport spoke with the Women's Technical Director Mark Rodrigues he said that the biggest challenge going into the game is cohesion of the unit due to the inclement weather over the past few days. The team is comprised mainly of girls based in the US, Canada and some from Guyana.
That apart, Rodrigues said that the Under-20 girls are significantly more talented than their senior counterparts and he is confident of Guyana's chances today.
He pointed out that the bulk of the team was encamped in July and the technical staff was satisfied with what they saw.
According to Rodrigues, the Junior Jags played an Under-21 team and defeated them 6-1, pointing out that Guyana has reached a point in its development programme where the goal is not to compete, it is to win.
"The progression was nice. At this time we are very confident and I said it before – we have reached a stage in Guyana with our national programme that we do not want to compete, we want to win. When we came together with the senior team we were hoping to compete and do well but our mentality we have grown to is to win," Rodrigues emphasized.
On the other hand, it is not yet known how many local players will take the field today but Rodrigues said that it will be determined by the situation of the game. He said it would be good to see the locally- based players donning the national colours, adding that they are seeing the amount of work they have to do during training sessions with overseas players.
"They are becoming more disciplined, more focused on what they have to do and realising okay, if I want to be part of the national team I gotta step it up,"  Rodrigues explained.
He also pointed out that regardless of how confident the girls are they will not be taking any team lightly. Therefore, the technical staff will be fielding the best team possible.  Rodrigues commented on a plan against Antigua: "One of the things with 17s and U-20 there is not much known about the smaller nations… A lot of it is just word of mouth because there is not much on the internet you can pull so generally your approach going into the game is a little more conservative until you see what the opposition gives and then you can make your adjustments."
He noted that one of the major strengths of the team is the speed at which the girls can execute despite having some key members of the team missing. He is confident though that this group of players can take Guyana into the second round, which begins in December.
When Stabroek Sport spoke with Royston Williams, coach of Antigua, he said that this is the real situation for his girls. He also called on them to "dig deep and to look themselves in the mirror and ask themselves where they want to go."
Lady Jaguars: Ashlee Savona, Tessa Edwards, Justine Rodrigues (Captain), Leah-Marie Ramalho, Otesha Charles, Alisha Leila, Simone Busby (GK), Leah Chisholm, Esther Frotten, Martyne Alphonso, Sara Vaughn, Kailey Leila, Chantal Lynch, Elysia Prasad, Ursuline Primus, Sasha Greaves, Shonette Gasper (GK) and Mitra Thomas.
Technical staff: Christopher Brown, Coach; Ali Tabrizi,  Goalkeeper Coach and Trainer; and Leanne Yates, Physiotherapist.
 
Around the Web