Co-Directors of the Organisation, Kashif Muhammad and Aubrey 'Shanghai' Major, yesterday met with the local clubs that are preparing to compete for the first prize of one pound of gold, valued at G$4M, and handed over cash donations to the a combined worth of 1.4 million dollars.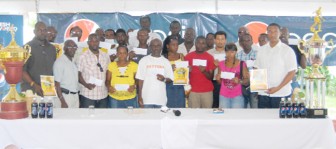 Caribbean United of Barbados and Caledonia AIA of Trinidad and Tobago are the two overseas teams in this year's competition.
Speaking at Duke Lodge, Muhammad said it was imperative that the teams adhere to the stipulated guidelines which are in accordance with that of football's world governing body, FIFA, and the local governing body, the Guyana Football Federation.
Muhammad stated that they will not shy away from enforcing the rules and regulations set out by the two bodies, adding that the ultimate aim was to provide a high standard of football during the December 10 to January 1, 2012, tournament.
He reminisced that the competition has been a great feeding ground for the success of Guyana's 'Golden Jaguars' and said this year will be no different as the search for new and exciting talent continues.
Muhammad revealed that apart from Guyana's Head Coach Jamaal Shabazz, who will be in charge of Caledonia AIA, several other scouts from Trinidad  and Tobago  will be here for the tournament.
He urged the representatives of the teams to ensure their players exercise the highest level of discipline at all times, whether on or off the field of play.
Finally in light of their decision not the include last year's champions Alpha United in the competition, the organisers said they regretted not having more Georgetown teams in the tournament, but said they did not want to take the chance of having unnecessary interruption.
"We certainly wanted to have more Georgetown teams around, but with so much of them being banned by the GFF, we have to abide by their rules, since we don't want to have a situation where for example the GFF pulls out the referee because of this," Major reasoned.
Around the Web