(Reuters) – The National Basketball Association (NBA) confirmed yesterday that the 2011-12 season will start on Christmas Day with five high-profile games, including a blockbuster showdown between the Dallas Mavericks and Miami Heat.
The New York Knicks will also host the Boston Celtics at Madison Square Garden and the Los Angeles Lakers host the Chicago Bulls when the shortened 66-game season finally gets underway after a five-month lockout.
The tip-offs remain contingent on league owners and the players union approving a new collective bargainining agreement. The sides have already agreed in principle and are expected to ratify the deal next week.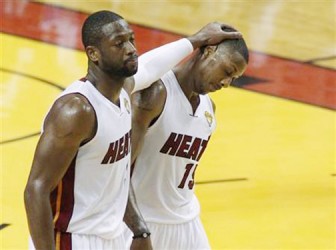 NBA owners and players returned to the negotiation table on Friday to put together the final pieces of a new 10-year collective bargaining agreement that was agreed in principle last Saturday. The two sides are shooting for a ratification next week of the agreement, with the NBA Board of Governors planning to meet on Thursday, NBA spokesman Tim Frank told Reuters.
Ratification would permit training camps to open on Dec 9. Teams would tune up for the season with preseason contests starting Dec 16. The owners and players union were able to resume negotiating after the players announced on Thursday more than 300 of their members had approved the reforming of the National Basketball Players Association (NBPA) as their union.
"This is good news and completes another step in the process of finalizing our agreement," Frank said.
The union had disclaimed interest in representing the players on Nov 14 after talks with the owners broke down, allowing players to file antitrust lawsuits against the league.
Negotiations had continued though leading to the tentative agreement.
While not representing the players as a union, the NBPA had remained active in the process as a trade association.
Dallas defeated the Heat in six games to win last season's NBA Championship before a labor dispute locked out the players in July and led to the cancellation of this season's league contests for November and most of December.
The other games on Dec 25 games will see the Orlando Magic taking on the Oklahoma City Thunder in Oklahoma and the Los Angeles Clippers playing at the Golden State Warriors.
Around the Web