AHMEDABAD, India, CMC – West Indies kept their five-match series with India alive when they beat the hosts by 16 runs in the third One-Day International here yesterday.
Defending 260 for five off their 50 overs, the Caribbean side made key strikes at crucial moments late in the contest at the Sardar Patel Stadium, to limit India to 244 all out off 46.5 overs.
Rohit Sharma seemed to be carrying India towards their third consecutive win but he was brilliantly run out by captain Darren Sammy in the 44th over, to swing the pendulum West Indies' way.
Man-of-the-Match Ravi Rampaul claimed four for 57, including two wickets in the second over of the innings that left India reeling at eight for two.
He returned to break a worrying last wicket-stand of 28, removing Abhimanyu Mithun for 23 and sealing victory for the Windies.
The tourists had earlier gotten 58 from Marlon Samuels but it was a whirlwind unbroken 79-run, sixth wicket stand off 46 balls between Sammy and the exciting all-rounder Andre Russell, that injected life into the West Indies innings.
Losing their way at 181 for five, Sammy blasted 41 from a mere 17 balls and Russell added 40 from 18 balls, as they spectacularly added 73 runs from the last five overs.
Sammy clobbered five fours and two sixes while Russell matched him blow for blow, counting four fours and two sixes.
Asked to bat first, West Indies were off to a bad start losing in-form opener Lendl Simmons (1) to a catch behind in the day's third over.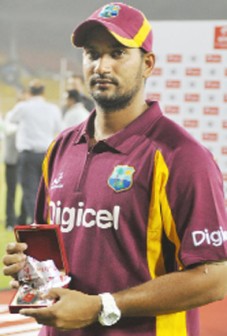 Samuels then added 40 with Danza Hyatt (20) and put on another 55 with Darren Bravo before the left-hander retired hurt on 26, in the 26th over.
The right-handed Samuels hit five fours and a six off 93 balls but was bowled by off-spinner Ravi Ashwin, backing away to give himself room to hit through the off-side in the 34th over.
Denesh Ramdin (38) and Kieron Pollard (29) posted 55 for the fourth wicket but were out in consecutive overs, paving the way for Sammy and Russell to blast West Indies out of trouble.
India had a bad start again with Virender Sehwag and Gautam Gambhir both falling for first ball "ducks" to Rampaul.
Sehwag was caught at the wicket slashing while the left-handed Gambhir offered no stroke and was plumb lbw.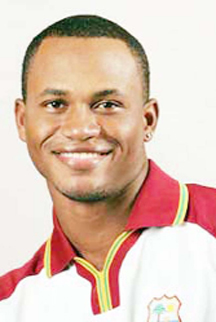 Opener Parthiv Patel (39) and Virat Kohli (20) repaired the innings with a 25-run, third wicket partnership but the in-form Kohli became the first of debutant off-spinner Sunil Narine's (2-34) two wickets when he was lbw in the ninth over.
Patel's dismissal at 79 for four in the 15th over sparked a slide which saw India lose three wickets for 26 runs to fall to 105 for six.
Sharma, who faced 100 balls and hit 10 fours and a six, then added 91 for the next wicket with Ashwin (31), to rescue India from collapse and put them in sight of a possible victory.
Ashwin became Narine's second wicket while Vinay Kumar (3) was bowled by pacer Kemar Roach, as West Indies hit back.
The match was turned on its head moments later when Sharma was brilliantly run out by a direct hit from Sammy at mid on, and the last wicket fireworks were merely temporary.
Scoreboard
WEST INDIES
L Simmons c wkp Patel b Vinay Kumar                                1
D Hyatt c wkp Patel b Mithun                                                 20
M Samuels b Ashwin                                                                  58
D Bravo ret hurt                                                                           26
+D Ramdin c wkp Patel b Yadav                                           38
K Pollard c Jadeja b Vinay Kumar                                       29
A Russell not out                                                                         40
*D Sammy not out                                                                      41
Extras (lb2, w5)                                                                             7
TOTAL (5 wkts, 50 overs)                                                   260
Did not bat: K Roach, R Rampaul, S Narine.
Fall of wickets: 1-2 (Simmons, 2.4 overs), 2-42 (Hyatt, 13.1), 2-97* (Bravo, ret not out, 26), 3-122 (Samuels, 33.4), 4-177 (Ramdin, 43.5), 5-181 (Pollard, 44.2)
Bowling: Vinay Kumar 8-1-39-2, Yadav 9-1-75-1, Mithun 7-0-47-1, Jadeja 10-1-37-0, Ashwin 10-0-33-1, Raina 6-0-27-0.
INDIA
+P Patel b Samuels                                                                       39
*V Sehwag c wkp Ramdin b Rampaul                                     0
G Gambhir lbw b Rampaul                                                          0
V Kohli lbw b Narine                                                                   20
R Sharma run out                                                                          95
S Raina c wkp Ramdin b Rampaul                                            2
R Jadeja run out                                                                            11
R Ashwin lbw b Narine                                                               31
R Vinay Kumar b Roach                                                              3
A Mithun lbw b Rampaul                                                          23
U Yadav not out                                                                            11
Extras (b1, lb2, w3, nb3)                                                           9
TOTAL (all out; 46.5 overs)                                              244
Fall of wickets: 1-8 (Sehwag, 1.1 overs), 2-8 (Gambhir, 1.2), 3-43 (Kohli, 8.2), 4-79 (Patel, 15), 5-84 (Raina, 16), 6-105 (Jadeja, 20.5), 7-196 (Ashwin, 40), 8-200 (Vinay Kumar, 41.3), 9-216 (Sharma, 43.4), 10-244 (Mithun, 46.5)
Bowling: Roach 10-0-54-1, Rampaul 8.5-1-57-4, Narine 10-0-34-2, Samuels 10-0-50-1, Russell 4-0-25-0, Sammy 1-0-7-0, Simmons 2-0-10-0, Pollard 1-0-4-0.
Result: West Indies won by 16 runs.
Series: India lead five-match series 2-1.
Man-of-the-Match: Ravi Rampaul.
Toss: India.
Umpires: S Asnani, A Hill; TV – V Kulkarni.
Around the Web