(Reuters) – Paceman Pat Cummins will miss part of Australia's four-test series against India after scans revealed his heel injury was more serious than expected and would take longer to recover.
The 18-year-old suffered the injury during his six-wicket debut in Australia's second test win against South Africa last month but had been expected to be available for the opening test against India in Melbourne on December 26.
Further scans showed a "bone stress component" to his injury, team physiotherapist Alex Kountouris said, and its added complexity was likely to see him sidelined until early to mid-January.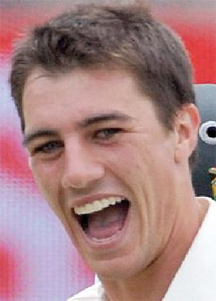 "By the end of last week it was apparent to all of us managing him that he was progressing slower than expected for a soft tissue injury of the heel," Kountouris said in a statement released by Cricket Australia on Wednesday.
"As such we arranged for him to see a foot specialist and had further scans that have identified a bone component to his injury, that was not evident on the original scans.
"This means that his recovery will take longer than first expected. He is not likely to resume bowling until early to mid-January 2012."
The expected recovery time will likely see Cummins miss the first and second test, which begins on January 3 in Sydney. The third test in Perth starts on January 13.
Around the Web