CHITTAGONG, Bangladesh, (Reuters) – Pakistan's spin quartet capitalised on an unexpected power failure to beat Bangladesh by 58 runs in the third one-day international to complete a 3-0 series victory yesterday.
After restricting Pakistan to a bellow-par 177 runs, Bangladesh appeared to be coasting towards victory as they reached 61-1 when suddenly the floodlights went out at the Zahur Ahmed Chowdhury Stadium.
That unexpected 15-minute break extinguished Bangladesh's hopes of avoiding a series whitewash as upon resumption they lost their last nine wickets for just 50 runs and were all out for 119.
Off spinner Mohammad Hafeez led Pakistan spin attack with 3-27 while former captain Shoaib Malik, playing his 200th one-day international, cleaned up the tail with three wickets for only six runs.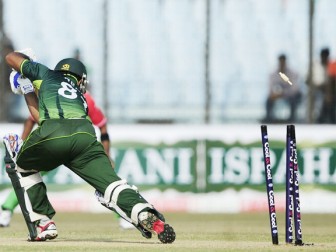 Hafeez bowled opener Tamim Iqbal with the first ball of the innings but Shahriar Nafees and Mahmudullah frustrated the visitors with their patient knocks to put on 69 runs for the second wicket.
Just when it seemed that Bangladesh may finally earn a long-overdue victory against Pakistan, Misbah-ul-Haq's men fought back by grabbing five wickets for just 14 runs.
Off spinner Saeed Ajmal trapped Nafees (25) lbw, Mushfiqur Rahim was sent back without scoring by left-arm spinner Abdur Rehman while Hafeez removed Mahmudullah (35) and Shakib Al Hasan (nine).
Nasir Hossain's innings lasted just eight balls as he became Rehman's second victim of the day and his exit left Bangladesh reeling on 83 for six.
Alok Kapali and Farhad Reza revived their hopes with a 34-run stand before a dubious umpiring decision ended it all for the home side.
A confident-looking Reza was given out lbw off Ajmal for 21 but television replays suggested the ball took an inside edge before hitting his pad.
Ajmal finished with two wickets for six runs as Bangladesh lost their last four wickets for two runs.
Earlier, a 94-run fourth wicket stand between Misbah-ul Haq and Umar Akmal provided the backbone in Pakistan innings as Bangladesh spinners also had some success on the slow Chittagong pitch.
Akmal made his second half-century of the series before he was stumped by Mushfiqur Rahim off Elias Sunny for 57 off 84 balls.
Misbah chipped in with 47 before falling to left-arm spinner Abdur Razzak, who finished with 3-21.
Off-spinner Mahmudullah claimed career best 3-4 bowling only seven deliveries to wrap up the Pakistan innings.
Scoreboard
Pakistan innings
Mohammad Hafeez c Reza b Shafiul Islam              0
Asad Shafiq b Shakib Al Hasan                                     7
Younus Khan c Rahim b Abdur Razzak                  26
Misbah-ul Haq c Kapali b Abdur Razzak                47
Umar Akmal st Rahim b Elias Sunny                      57
Shoaib Malik c&b Abdur Razzak                                0
Shahid Afridi c Nasir b Elias Sunny                          9
Abdur Rahman lbw b Mahmudullah                       4
Sohail Tanvir c Rahim b Mahmudullah                  8
Umar Gul c Rahim b Mahmudullah                          0
Saeed Ajmal not out                                                       3
Extras (b-12 lb-1 w-2 nb-1)                                       16
Total (all out; 46.1 overs)                                       177
Fall of wickets: 1-0 2-37 3-39 4-133 5-133 6-148 7-162 8-172 9-172 10-177
Bowling: Shafiul Islam 6-1-32-1 (w-1 nb-1) , Farhad Reza 2-1-2-0, Abdur Razzak 10-2-21-3, Shakib Al Hasan 10-2-21-1, Elias Sunny 9-0-36-2 (w-1), Alok Kapali 4-0-17-0, Nasir Hossain 4-0-31-0, Mahmudullah 1.1-0-4-3
Bangladesh innings:
Tamim Iqbal b Mohammad Hafeez                                 0
Shahriar Nafees lbw b Saeed Ajmal                              25
Mahmudullah lbw b Mohammad Hafeez                   35
Mushfiqur Rahim lbw b Abdur Rehman                      0
Shakib Al Hasan c&b Mohammad Hafeez                    9
Nasir Hossain c Misbah b Abdur Rehman                  3
Alok Kapali c Shafiq b Shoaib Malik                            12
Farhad Reza lbw b Saeed Ajmal                                    21
Elias Sunny b Shoaib Malik                                               1
Abdur Razzak not out                                                         1
Shafiul Islam b Shoaib Malik                                            0
Extras (b-4 lb-3 w-5)                                                         12
Total (all out; 38 overs)                                                   119
Fall of wickets: 1-0 2-69 3-70 4-72 5-81 6-83 7-117 8-117 9-119 10-119
Bowling: Mohammad Hafeez 10-2-27-3 ( w-3), Umar Gul 2-0-3-0, Abdur Rehman 10-1-32-2, Shahid Afrid 4-0-27-0 (w-1), Saeed Ajmal 7-4-6-2 (w-1), Sohail Tanvir 1-0-11-0, Shoaib Malik 4-2-6-3.
Around the Web