The Round-of-16 stage matches in the 2011 Guinness-in-the-Streets football tournament got underway on Tuesday evening with Alexander Village, West Front Road and Charlestown securing spots in Saturday's quarter-finals. In the exhibition matches of the tournament, which consists of eight  teams divided into two groups of four, Upper Level, Sweet Point, Queen's Street Tiger Bay, and Customs won their respective opening group game fixtures.
Patrons in large numbers at the National Cultural Center tarmac were treated to an exciting brand of all-round street football which resulted in 26 goals being scored.
The highlight of the evening in the trio of Round-of-16 matches was an exciting end-to-end encounter between Hope Street Tiger and Charlestown, which eventually finished 2-1 in favour of the former. While in the five exhibition games, the night's opening fixture between Upper Level Barber Shop and YMCA was the most evenly contested fixture.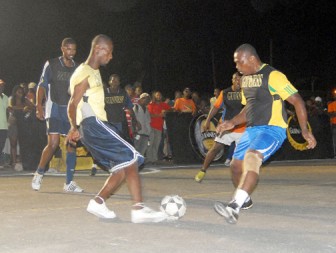 Eon Alfred had the best individual performance scoring a helmet trick for Queens Street Tiger Bay in his side's 4-2 victory over Beterverwagting and a hat-trick for Rawle Johnny for Customs against Clippers.
Action in the Round-of-16 and exhibition phase continues this evening.
Summary of scores from Tuesday evening:
Game 1: YMCA 3 v/s Upper Level Barber Shop 2.Goal Scorers; YMCA – Dexter Duncan 9th minute, Shemroy Grandison 10th minute and Devon Caesar 13th minute.
Upper Level – Warren Williams 7th minute and Aaron Fraser 16th minute.
Game 2: Media (Walk Over) v/s Sweet Point
Game 3: BV 2 v/s Queen Street Tiger Bay 4 (Extra Time) game was 2-2 at regular Time. Goal Scorers; BV – Delroy Deen 3rd and 8th minutes.
Queen Street Tiger Bay -Eon Alfred 19th, 24th, 28th and 29th minutes.
Game 4: Guinness Bar 1 v/s Oasis 1. Goal Scorer; Guinness Bar – Odwin Hendericks 11th minute. Oasis Oasis – Gasper Benfield 6th minute.
Game 5: Customs 4 v/s Clippers 2. Goals Scorer; Customs -Rawle Johnny 4th, 6th and 11th minutes and Garfield Todd 10th minute.
Clippers – Mark Daniels 8th minutes and Dave Weterman 19th minute.
Game 6: Globe Yard 0 v/s West Front Road 3. Goal Scorer; West Front Road -Michael Pedro 16th, 17th minutes and Hubert Pedro 19th minute.
Game 7: Hope Street Tiger Bay 2 v/s Charlestown 1.Goal Scorers; Hope Street Tiger Bay – Soloman Austin 7th minute and Dwayne Dickson 29th minute.
Charlestown – Travis Heyliger 6th minute.
Game 8: Durban Streer 0 v/s Alexander Village 1. Goal Scorer; Alexander Village – Sheldon Greeves 19th minute.
Around the Web