Says Emmerson Campbell
Guyana's cruiserweight and heavyweight champion, Kurt 'The Sledgehammer' Bess will look to destroy the bodywork and break through the defenses of World Boxing Council (WBC) CABOFE cruiserweight champion Barbadian Shawn 'The Sniper' Cox when the two pugilists match gloves for the latter's title in the headline bout of the 19th edition of the Pro Am Guyana Fight Night card on December 17.
According to the Oxford Dictionary, the word sledgehammer is derived from the Anglo Saxon word "Slaegan", which, in its first sense, signifies "to strike violently."
Sledgehammers are mainly used in destruction work for breaking through drywall or masonry walls but Bess will be hoping that his sledgehammer-like fists might be able to damage tissue or break bones. The bout is expected to take place at the Cliff Anderson Sports Hall which is expected to erupt when the' Sniper' and the 'Sledgehammer,' enter the square jungle to battle over 12 rounds.
The two fighters, who have both won their last three fights by knockout, are renowned knockout specialists and pundits are predicting that the fight will not go the distance.
Cox, 36, has knocked out 13 of his opponents in his 15 –fight career; all 13 of his victims had a permanent stay at 'Port Canvas' by the fourth round. The six foot, one inch, southpaw 'Sniper' has an impressive record that reads 14 wins and one loss. The 32-year old Bess has less experience than his opponent; however, the chiseled boxer has a devastating right hand that has earned him three knockout victories.
The six foot, four inches, orthodox fighter's record reads five wins and four losses in his nine–fight career.
Stabroek Sport caught up with Bess' trainer George 'Canchie' Oprecth at the Andrew 'Sixhead' Lewis gym yesterday where the legendary trainer commented on his fighter's preparation.
Oprecth indicated that Bess started preparations in October and will be fully ready next Saturday.
"We started to prepare for battle since in October. We were to fight (Wayne Braithwaite) `Big Truck' on the Bristol (Seon) card, but we had to change some tactics because Cox is a southpaw and `Big Truck' is an orthodox fighter so we had to change some strategies," he said.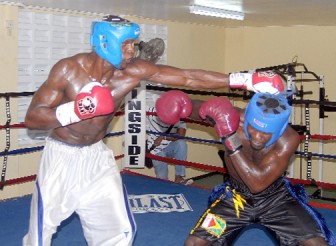 "The preparations are coming very good. We have been training twice a day doing road work in the mornings and gym work in the afternoons," he added.
'Canchie' stressed that there was a lack of sparring partners but said that Bess has been doing other work to off set this challenge.
"We got people around but they don't want to spar with Kurt, they are scared, they come once or twice and they don't come back we are running out of sparring partners because of his hitting power. He is one of Guyana's hardest hitters, but we are doing a lot of pad work to make it feel like he is sparring, but we have Kwesi (Jones local light heavyweight champion) coming out to help him out so he will get some sparring in."
Bess' trainer also disclosed that he was working on making the 'Sledgehammer' a more skillful and two fisted boxer.
"We are developing his boxing skills all the time. We are doing a lot of footwork and movement drills. We are also doing a lot of boxing drills, working on his angles. Another area we are working on is to develop his right hook because he already has a good right cross, so that way he will become a much better and balanced puncher with power in both hands."
Oprecht said that although he does not like to make predictions, he thinks the contest will not go the distance.
"We don't like making predictions but I have a feeling this fight is not going to go the distance. That guy won't be able to take Kurt's punches. He, (Cox) has a good record but there were a lot of substandard people he fought.  Kurt will be the toughest fighter he ever faced and Kurt is going to land and when he lands, Cox will get hurt.
The CABOFE title is just the first step for us when we take that we are going after World titles and keep moving forward," Oprechet. Bess is no doubt being prepared for the fight of his career and Oprecth revealed that he is using a lot of psychological techniques to have his charge mentally prepared.
"I am using a lot of psychological techniques to encourage his confidence and build him up, that is the trainer's work, you have to build your boxer up mentally and physically all the time that is how we do it," said Oprecht
On the undercard, Guyana's Mark Austin will have his much awaited rematch with  former CABOFE and reigning Commonwealth Zonal junior welterweight champion, Barbadian Miguel 'Hands of Stone' Antoine in an eight-round welterweight contest.
Dominica-based Clive 'Wonder Kid' Atwell will face another Barbadian Gardel Roberts in a six-round junior lightweight fight while Prince Slowe will make his professional debut against Hewley Robertson in a four-round bantamweight bout.
The pugilists who will be matching gloves on the amateur segment of the card will be named in a subsequent article.
As a special attraction two lucky ticket holders will win a trip to Trinidad and Tobago.
The monthly card is an initiative of the Guyana Boxing Board of Control (GBBC) in collaboration with the Sports Ministry and National Communications Network (NCN).
Sponsors of the event include Digicel, Giftland Office Max, GuyOil, Courts, Banks DIH Limited and ANSA McAl.
Admission is $1000, while children will be asked to pay half price. Bell time is 20:00 hrs.
Around the Web