MELBOURNE,  (Reuters) – Former Australia captain Steve Waugh has warned paceman Pat Cummins about his Indian Premier League ambitions after it emerged the talented teenager's heel injury would see him sidelined for most of the Australian cricket summer.
Cummins's injury, suffered during his brilliant six-wicket debut in Australia's second test win over South Africa, has sparked a fierce debate in Australia over how best to nurture the 18-year-old's budding career.
Despite calls from senior players that Cummins should be spared one-day and Twenty20 to be fresh for test cricket, the bowler's management has confirmed he would nominate for the IPL auction.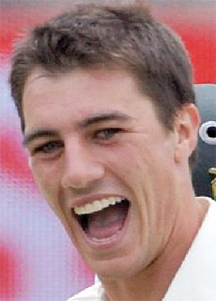 Waugh said Cummins would have ample time to chase a lucrative contract in the subcontinent later in his career — after establishing himself in Australia's national framework.
"The priority has got to be playing for Australia, the baggy green is number one and everything else slots in underneath that," Waugh told local media on Wednesday.
"Obviously there's money to be made from the IPL, but I think as a young guy with his potential and his star quality, he's going to make a lot of money out of the game of cricket.
"IPL right now should be a fair way down on his radar. And if his body is a little bit susceptible to injury at the moment his commitment has got to be playing for Australia first."
Waugh said he thought governing body Cricket Australia should also warn him off playing the IPL.
"The senior players, people like Michael Clarke, Ricky Ponting and Justin Langer as the batting coach, these guys know the value and what it means to play for Australia and I'm sure they'll be in his ear," he added.
Cummins had been expected to be fit for the team's first test of their four-match series against India in Melbourne on Dec. 26, but further scans had shown the injury had a "bone stress component" which would likely see him sidelined until early to mid-January, team physiotherapist Alex Kontouris said on Wednesday.
"By the end of last week it was apparent to all of us managing him that he was progressing slower than expected for a soft tissue injury of the heel," Kountouris said in a statement released by Cricket Australia.
The expected recovery time would see Cummins miss the first and second tests, which begin on Jan. 3 in Sydney and leave him in doubt for the third test in Perth starting Jan. 13.
Cummins, Australia's youngest player to be awarded a central contract, gave short shrift to the idea of excusing himself from the shorter formats.
"Hopefully, (I'll play) the one-day series and the Twenty20," he told local reporters.
Australia play India in two Twenty20 matches in February before starting a one-day tri-series with the same team and Sri Lanka.
"Obviously (the injury) is disappointing but hopefully it doesn't make too much of a difference."
Around the Web