DUBAI,  (Reuters) – A swashbuckling finish  yielding five birdies in six holes catapulted Rory McIlroy up  the Dubai World Championship leaderboard yesterday as he  seized the early initiative in his European money-list battle  with Luke Donald.
The U.S. Open champion returned a six-under-par 66 while  U.S. PGA Tour money-winner Donald, bidding to become the first  player to land the orders of merit on both sides of the  Atlantic, struggled to a 72. Swede Peter Hansen led the field  after a record-equalling 64.
McIlroy, who needs to win this week to have a chance of  catching Donald, made a bad start, losing his ball at the second  hole after slicing his long approach shot into bushes and  racking up a double-bogey seven.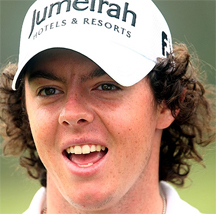 The 22-year-old Northern Irishman dropped another shot at  the eighth but roared home in 30 strokes with birdies at the  10th, 13th, 14th, 16th, 17th and 18th.
"I just stayed patient," McIlroy told reporters. "I knew  there was going to be some point where I would be able to make a  bit of a charge.
"When you get on a roll like that it's nice. You don't have  to think about it too much, you just try to hit the fairway,  hole the putt and go on to the next hole."
McIlroy, who kept alive the money-list battle by winning the  Hong Kong Open on Sunday, has finished in the top five in his  last five events on the European Tour.
"This is the longest period in my career I've played this  level of golf," said the world number two. "It's been a good  run."
Donald said on Wednesday that he rated McIlroy as a more  talented golfer than Tiger Woods but the Northern Irishman was  keen to play down the Englishman's assessment.
TYPES OF TALENT
"It's one thing to have talent but it's another to actually  have the capability of turning that talent into something  productive," he said.
"I think what Luke was trying to say was maybe golf comes as  easy to me as it does to Tiger. I'll never know but look,  Tiger's won 90-odd tournaments worldwide and 14 majors and  that's definitely more of a talent than my five wins.
"There are different types of talent. You could say some of  Luke's short-game shots out there today were unbelievable," said  McIlroy.
"Luke's definitely got more talent than me around the  greens. I don't feel invincible."
Donald toiled in the face of McIlroy's assault, bogeying  three holes in a row from the 14th.
The 34-year-old Englishman has a lead of $1.06 million over  second-placed McIlroy at the top of the money-list and needs to  finish in the top eight here to end the season as number one  even if his rivals wins the tournament.
"I played solidly with four birdies on the front nine and  then hit a few shots that cost me, poor drives on 14 and 15, and  it was a bit of a loose back nine unfortunately," said world  number one Donald.
"This course can do that to you. There are a lot of hazards  in the middle of the fairways, bunkers that you have to aim to  one side or the other.
"Rory had a great back nine," added Donald. "He was holing  putts from everywhere (but) I cannot really concentrate on what  he is doing, I've got to take care of my own business."
Around the Web