(Reuters) – A week, as former British Prime  Minister Harold Wilson once quipped, is a long time in politics,  though New Zealand captain Ross Taylor and his young team have  also discovered that it also applies to test cricket.
Before the first test against Australia, Taylor's side were  brimful of confidence amid expectations in New Zealand they  could win their first match across the Tasman Sea in 26 years,  and first test against Australia since 1993.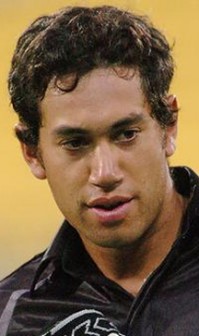 Four days later they had slunk out of the Gabba after a  nine-wicket defeat against an Australian bowling attack that  included two pace bowlers making their test debuts and an  off-spinner in his sixth test who had never set foot on the  storied Brisbane ground.
Poor catching, sloppy bowling and a second innings batting  collapse in the face of a fiery morning spell from debutant  James Pattinson led to a players-only meeting this week where  "harsh words were exchanged", according to pace bowler Tim  Southee.
Taylor said they were now looking to ensure there would be  no repeat at Bellerive Oval when the second and final test gets  underway in Hobart on Friday.
"We're trying to keep it as upbeat as possible," Taylor told  reporters yesterday.
"Obviously we were very disappointed with the performance we  put in, for the fans back home, and everyone's hurting.
"As a unit, bowlers bowled well in patches, we've just got  to be a bit more consistent. And as a batting unit we need to be  able to leave outside the off stump and let them bowl at us.
"A lot of the deliveries that the Australians did bowl  weren't hitting the stumps when they got us out. So, me  included, just (need to) play a lot tighter than we did in  Brisbane."
The New Zealand batting lineup is likely to remain  unchanged, with coach John Wright saying earlier in the week  that the top six would be given a chance to atone for Brisbane.
Australia is also unchanged for the test with captain  Michael Clarke keen for his side to keep their foot on New  Zealand's throat as they look ahead to their four-test series  against India which starts later this month.
"I felt we did a good job in both innings at the Gabba,"  Clarke said. "(But) there are definitely areas that need  improving and I have made that very clear."
One of Clarke's few headaches from Brisbane was the form of  opener Phil Hughes, who gave up his wicket cheaply in both  innings but survived the axe after a lengthy selectors' debate.
The 23-year-old's poor form and tendency to nick catches  behind the wicket has been under heavy scrutiny under Australia,  with former players and pundits lining up to encourage or  admonish him.
"Phil Hughes would be disappointed with himself at not  grabbing his opportunities," former Australia legspinner Shane  Warne told local reporters.
"For him, it's all about getting his mindset right. Go out  with an attacking attitude rather than a defensive attitude of  survival."
Clarke said overall the Australians should be pleased with  their past few months, which has included a series win in Sri  Lanka and a 1-1 draw away to South Africa.
"We are still working hard on our consistency and I guess  that's the most satisfying thing about winning in Brisbane. It's  been a long time since we won back-to-back test matches so that  was really pleasing.
"But we want to win the series and we are here to win this  test match and that will be a great start to the summer."
Australia: Michael Clarke (captain), David Warner, Phil  Hughes, Usman Khawaja, Ricky Ponting, Michael Hussey, Brad  Haddin, Peter Siddle, James Pattinson, Mitchell Starc, Nathan  Lyon.
New Zealand (likely): Ross Taylor (captain), Brendon  McCullum, Martin Guptill, Kane Williamson, Jesse Ryder, Dean  Brownlie, Daniel Vettori, Reece Young, Doug Bracewell, Tim  Southee, Chris Martin
Around the Web