INDORE, India, (Reuters) – Virender Sehwag (219)  blasted the highest individual score in 50-over cricket to  secure India's comprehensive 153-run series-clinching victory  over West Indies in the fourth one-dayer yesterday.
The crowd at Indore's Holkar Cricket Stadium witnessed two  milestones as Sehwag's breath-taking 149-ball knock, studded  with seven sixes and 25 fours, powered India to a massive 418  for five wickets, their highest ever ODI total.
In reply, West Indies simply caved in under the run mountain  and barring Denesh Ramdin (96), none of their batsmen could  provide substantial resistance as the visitors folded for 265  with four balls to go.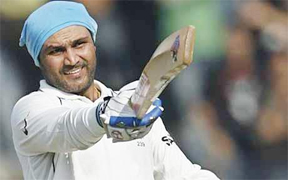 Ravindra Jadeja (3-34) was the pick of the Indian bowlers  but debutant leg-spinner Rahul Sharma (3-43) impressed too.
Chennai hosts the fifth and final one-dayer on Sunday.
The day belonged to Sehwag, who toyed with the West Indies  attack and scored almost at will.
Leading the side in absence of regular skipper Mahendra  Singh Dhoni, Sehwag won the toss and returned to vindicate his  decision to bat first on a belter of a track.
Sehwag added 176 runs with Gautam Gambhir (67) in 22-odd  overs before a mix-up resulted in the exit of his opening  partner.
Next man in Suresh Raina (55) also helped himself to an easy  half-century before departing in a similar fashion.
None of these really affected Sehwag's natural game as sixes  and fours continued to flow from his blade.
The visitors made it worse with their sloppy fielding.
Sehwag was on 20 when Kieron Pollard's direct hit missed the  stumps with the batsman nowhere near the crease.
The double century would not have materialised either had  Darren Sammy, running from extra cover, taken an easy catch off  Ravi Rampaul. Sehwag was batting on 170 at that stage.
Sehwag grabbed the opportunity with both hands and cut Andre  Russell for a boundary to overtake Sachin Tendulkar's 200 not  out that was scored against South Africa in a Gwalior ODI on Feb  24, 2010.
Pollard eventually removed a tired Sehwag in the 47th over  but the batsman by then had ensured India posted their fourth  400-plus total in one-day cricket.
Scoreboard
India innings:  
G. Gambhir run out                                          67
V. Sehwag c sub b Pollard                             219
S. Raina run out                                                  55
R. Jadeja c Rampaul b Russell                      10
R. Sharma b Roach                                            27
V. Kohli not out                                                  23
P. Patel not out                                                      3
Extras (lb-1, w-13)                                               14
Total (5 wickets; 50 overs)                            418   
Did not bat: R. Ashwin, R. Vinay Kumar, A. Mithun, R.  Sharma.
Fall of wickets: 1-176 2-316 3-341 4-376 5-393.
Bowling: Roach 10-0-88-1, Rampaul 9-0-66-0(3w), Russell  7-0-63-1(1w), Narine 6-0-46-0(2w), Sammy 3-0-30-0(1w), Pollard  7-0-65-1(2w), Samuels 8-0-59-0.
West Indies innings:  
L. Simmons c Patel b Jadeja                                           36
K. Powell run out                                                                  7
M. Samuels b Rahul Sharma                                          33
D. Hyatt b Rahul Sharma                                                11
D. Ramdin c Rohit Sharma b Raina                            96
K. Pollard b Rahul Sharma                                               3
A. Russell st Patel b Raina                                             29
D. Sammy c Mithun b Ashwin                                       2
R. Rampaul c sub b Jadeja                                            10
K. Roach c & b Jadeja                                                       7
S. Narine not out                                                               27
Extras (lb-2, w-2)                                                              4
Total (all out; 49.2 overs)                                       265   
Fall of wickets: 1-13 2-63 3-81 4-90 5-100 6-140 7-145 8-168  9-201.
Bowling: Vinay Kumar 4-0-34-0, Ashwin 10-0-59-1 (1w), Jadeja  10-2-34-3, Mithun 4-0-37-0(1w), Rahul Sharma 10-0-43-0, Raina  6.2-0-17-2, Rohit Sharma 5-0-39-0.
Around the Web