KINGSTON, Jamaica, CMC – Chris Gayle will be a non-starter for Jamaica in the Caribbean Twenty20 Championship next month.
Media reports indicated that the estranged West Indies opener will not be released by the Sydney Thunders franchise during the Big Bash Twenty20 tournament which will be contested in Australia at the same time the regional tournament is unfolding.
Gayle hinted that he would try to make himself available for Jamaica in a bid for them to complete a sweep of the major regional titles after leading the national side to victory in the Regional Super 50 tournament last October in Guyana.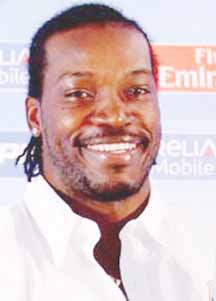 His unavailability almost rules him out of the Twenty20 World Cup next September in Sri Lanka in light of the West Indies Cricket Board's new selection policy.
Players must now make themselves available to their regional territorial side in the format of the game for which they hope to be selected for West Indies during the ensuing year.
Gayle has not played for West Indies since the World Cup on the Asian sub-continent earlier this year, following a disagreement with the WICB over his contentious comments in an interview with a Jamaican radio station.
Efforts to resolve the matter have proved futile with the WICB demanding an apology from Gayle and the talismanic batsman openly refusing to budge.
Tamar Lambert, the regular captain of the national team in the regional first-class championship, has been overlooked for the second year in a row. Out-of-favour West Indies duo of batsman Xavier Marshall and fast bowler Andrew Richardson, two other members of the side that won the RS50, have also missed out.
They are two of the four reserves named by the National Selection Panel, along with Simon Jackson and Damion Jacobs.
Former youth players Andre McCarthy and Kennar Lewis are both set to make their debuts, after they were included in the 14-member squad.
All-rounder Dave Bernard Jr missed the recent RS50 while recovering from knee surgery, but returns to the squad – and will captain the side.
Marlon Samuels, Danza Hyatt and Andre Russell are now on West Indies duty in India and have been included, along with Windies wicketkeeper/batsman Carlton Baugh Jr.
Jamaica have been slotted into Group-B, where their opponents will be the Netherlands, Sussex, Combined Campuses & Colleges, and co-hosts Barbados.
The CT20 opens on January 9.
Squad:Dave Bernard Jr (captain), Carlton Baugh Jr, Nkrumah Bonner, Odean Brown, Sheldon Cotterrell, Shawn Findlay, Danza Hyatt, Kennar Lewis, Andre McCarthy, Horace Miller, Nikita Miller, Andre Russell, Marlon Samuels, Krishmar Santokie.
Around the Web