CHITTAGONG, Bangladesh, (Reuters) – Unbeaten half-centuries from Mohammad Hafeez and Taufiq Umar put Pakistan in a commanding position after they had dismissed Bangladesh for 135 on the first day of the first test yesterday.
The Pakistan openers were largely untroubled, in stark contrast to the hosts who produced another tame batting display as Saeed Ajmal and Abdur Rehman each grabbed three wickets.
"I get confidence when I see Ajmal bowling from other end," Rehman, who took three for 9 in 6.2 overs, told reporters. "He is a top bowler now and it's always nice to get support from the other end."
Pakistan reached 132-0 in reply with Hafeez on 74 and Umar 53 not out.
Bangladesh were shot out on the stroke of tea with Rehman claiming the final wicket of Nasir Hossain for 41.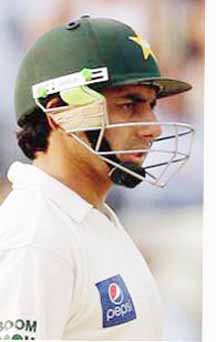 The 20-year-old Nasir had provided brief resistance before he fell a run short of his career best in only his third test.
Just two other Bangladesh batsman reached double figures, opener Nazimuddin making 31 and Mahmudullah 18.
A frustrating day for the hosts was compounded when Shahadat Hossain dropped a simple catch at mid-on off Shakib Al Hasan, which allowed Umar to complete his half-century.
"We have very talented cricketers, we just have got a mental block somewhere," said Bangladesh coach Stuart Law.
"We can't hit the ball, we can't defend the ball and at the moment we seem to be doing neither.
"We have got to stick to what we are doing in practice, keep believing what we are doing is right and I am sure we will turn around it at some stage."
Scoreboard
Bangladesh first innings
Tamim Iqbal c Adnan b Aizaz Cheema                       9
Nazimuddin c Hafeez b Umar Gul                                 31
Shahriar Nafees c Younus c Cheema                            0
Mohammad Ashraful c Adnan b Umar Gul                1
Mushfiqur Rahim lbw b Saeed Ajmal                           4
Shakib Al Hasan c Hafeez b Abdur Rehman              8
Mahmudullah lbw b Saeed Ajmal                                18
Nasir Hossain c Azhar b Abdur Rehman                  41
Elias Sunny c Younus b Saeed Ajmal                          2
Shahadat Hossain b Abdur Rehman                            8
Rubel Hossain not out                                                        3
Extras (lb-9, nb-1)                                                            10
Total (all out; 51.2 overs)                                           135
Fall of wickets: 1-17 2-19 3-20 4-28 5-47 6-71 7-81 8-97 9-118 10-135
Bowling: Mohammad Hafeez 3-1-9-0, Umar Gul 13-5-33-2(nb-1), Aizaz Cheema 11-4-35-2, Saeed Ajmal 18-5-40-3, Abdur Rehman 6.2-2-9-3
Pakistan first innings
Mohammad Hafeez not out                                           74
Taufiq Umar not out                                                          53
Extras (lb-3, nb-2)                                                                5
Total (no wicket; 38 overs)                                         132
To bat: Younus Khan, Misbah-ul-Haq, Azhar Ali, Asad Shafiq, Adnan Akmal, Saeed Ajmal, Abdur Rehman, Umar Gul, Aizaz Cheema.
Bowling: (to date) Shahadat Hossain 4-1-21-0 (nb-1), Rubel Hossain 6-0-25-0 (nb-1), Mahmudullah 12-3-46-0, Shakib Al Hasan 6-2-19-0, Elias Sunny 9-2-17-0, Nasir Hossain 1-0-1-0
Around the Web